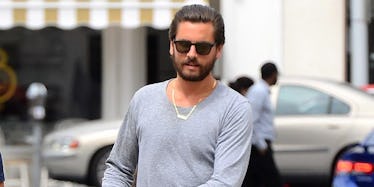 Scott Disick Was Spotted With Justin Bieber's Ex In Raunchy New Photo
REX/Shutterstock
I've had a love-love/hate-hate relationship with Scott Disick ever since I saw him shove that dollar bill in that poor server's mouth on KUWTK.
Sometimes I'm like, "Wow, this person is a nightmare" and other times -- like when he's making fun of Kim Kardashian for being excited about a free yoga class -- I'm like, "IDK. Maybe Scott Disick is the only person in the whole world who understands anything."
All of this to say, Scott... you OK, bro?
The father of three and ex to the eldest Kardashian sister, Kourt, has been letting his social world burn after she was spotted stepping out with new beau, model Younes Bendjima.
From Bella Thorne to now Justin Bieber's ex, Scott is hungry for some PDA and NOT with his baby's mama.
According to TMZ, Chantel Jeffries was spotted pool-side in a gold bikini with Scott this past Sunday on a yacht in Monaco, which leaves us all with the question, "How do random celebrities just end up on the same yacht in Monaco?" and also, "Who is Chantel Jeffries?"
You might recall her as Justin Bieber's ex, as well as a famous DJ. (Right, guys, you recall her?) According to E! News, Chantel and Justin Bieber were "hanging out" in July 2016 for a few weeks.
Their "relationship" became more real when a hacker posted a pic of Justin on her Instagram last August. Yeah, remember that?
Elite Daily reached out to Scott Disick's team to comment on his time with Chantel but did not hear back at the time of publication.
This rendezvous between Chantel and Scott comes hot on the heels after a series of photos surfaced of Mr. Disick strolling through an airport with actress Bella Thorne, reportedly on their way to Cannes.
Of course, for those keeping track at home, Cannes is where Kourtney was just spotted jet skiing her life away with super smoking babe, Younes.
AND for extra dramatic value, Kourtney was also once linked to Justin, who was dating Chantel, whose butt Scott Disick is now touching.
Oh, what a tangled web the Kardashians are ALWAYS weaving! I guess that's why they are always telling us to "keep up" with them... get it?
Ugh. Sorry.
Citations: GETS HANDFUL OF BIEBER'S EX (TMZ)