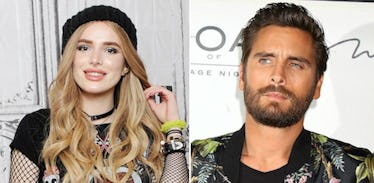 Bella Thorne Opens Up About What's Really Going On With Scott Disick
Getty Images/REX
Bella Thorne got real about her relationship with Scott Disick (if you can really call it that) in a new interview during which she reveals she was never involved with him sexually.
During the interview with her Duff co-star Jenny McCarthy for SiriusXM radio, Thorne said,
I was never with him sexually ... I've never seen Keeping Up With the Kardashians. I've seen, like, one episode when I first started talking to Scott.
Thorne also said she's friends with Kendall and Kylie Jenner, noting things don't seem to be awkward between the three of them, as far as she can tell.
She said,
I'm very friendly with Kylie and Kendall … as far as I know we're [super] chill. I didn't have any problem with them.
Thorne did defend Disick and his appearances on KUWTK. She said,
It's really unfortunate that there's always somebody that people kind of pick on. In shows and series, there's always that character that people beat up on a little bit. And I feel like, a little bit, that's him on the show. At least in the episode I saw.
Before this, the most recent update we had in the confusing lives of Scott Disick and Bella Thorne was that Disick had written up a synopsis of a reality TV show starring him and Thorne that would just be the pair of them going to clubs, checking out musicians, and partying together.
WHITE PEOPLE AT CLUBS! AMAZING. GROUNDBREAKING. EARTH-SHATTERING. GIVE IT AN EMMY.
Sorry for the shade, but this Disick and Thorne sh*t never ends.
People in Disick's circle say they're concerned about this whole reality TV show thing. A source close to him told Life & Style,
Scott's written a synopsis for a reality show based around him and Bella hanging out and partying together at clubs … Many people close to him think it's a recipe for disaster.
It's also just, like, not a good idea for a reality show. So.
The Disick and Thorne hooking up rumors started back when they were spotted hanging out in L.A. back in June, then the rumors only grew stronger when the two went to Cannes together.
Thorne said she left Cannes early because the "fancy" partying scene it offered wasn't what she was into.
She said in a tweet, "Yo this #cannes fancy life isn't for me."
Then she revealed how she feels about Disick's partying lifestyle. She said,
Scott is really nice, sweet, charming. I don't drink, and he really drinks a lot. And it just ended up … I just wasn't down. I was like, 'I gotta leave.' We were [at Cannes] a day and a half before I was like I'm booking my flight and leaving. I love to go out and have fun, I love to f*cking dance, but I just don't party hardcore like that and it was way too much for me. I was like, 'Woah, this is not the way I live my life, bruh.'
I'd just like to close things out with this GIF I found:
Bye!