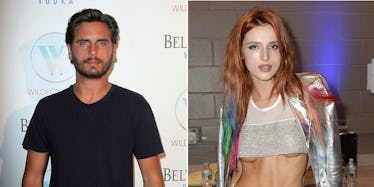 Scott Disick And Bella Thorne Reportedly Are Getting A TV Show And We're Calling BS
John Parra/Getty Images for Wildfox and Gustavo Caballero/Getty Images for iHeart
Scott Disick and Bella Thorne are reportedly getting their own reality TV show, and nothing makes sense to me anymore.
When the phrase "what the actual f*ck" was created, it was intended for this very moment. Every other time it's been said, it was just being borrowed.
Elite Daily reached out to both Disick and Thorne's teams for comment, but did not hear back by time of publication.
A source reportedly told Life & Style, 
Scott's written a synopsis for a reality show based around him and Bella hanging out and partying together at clubs ... Many people close to him think it's a recipe for disaster.
So it's important to note here that a Scott Disick and Bella Thorne reality show has not been picked up by any network. All that's happened is Disick has written the outline of a show starring him and Thorne. What happens next is up to f*cking fate, I guess.
The source told Life & Style,
She [Bella Thorne] already has a huge social media following, but she wants even more, and Scott's promising her that won't be a problem.
Thorne apparently wants to build on her nearly 16 million Instagram followers and about 7 million Twitter followers. But this doesn't sound like a great way to do it.
Although Disick seems to be gung-ho about making this show happen (it definitely doesn't seem like anyone from the Kardashian family will be involved), the source says Disick is not in a good place. They said,
Scott is in the worst shape he's ever been in. Friends and family fear he's headed for an overdose.
Adding,
He's tired of having to depend on the family for publicity. He's ready to take matters into his own hands.
This sounds pretty bad.
But at the same time, since the show hasn't been picked up yet (conspiracy theory coming right at ya), this could just be a story made up by the Kardashians to take the spotlight off Rob Kardashian posting revenge porn of Blac Chyna and potentially facing jail time.
I'm not saying this is a legitimate possibility, but I wouldn't be surprised if it were the truth.
But if this show actually happens, I'm quitting life in general.