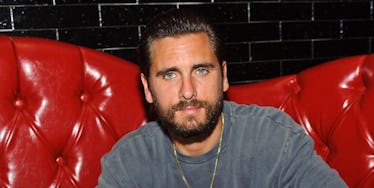 Scott Disick Was Reportedly Hospitalized And Placed In A Psychiatric Hold
Getty Images
Scott Disick was reportedly in the hospital and placed in a psychiatric hold after a fire department responded to a 5150 call on Friday, Aug. 18. The news was confirmed by authorities on Tuesday, Sept. 5. A 5150 call is a call that allows authorities and paramedics to confine a person suspected of having a mental disorder and capable of harming themselves and others. Reports say Disick wasn't violent when paramedics arrived. But why was Scott Disick hospitalized? What made the 5150 call necessary? Fans are wondering. Elite Daily reached out to Disick's team for comment, but did not hear back by time of publication.
When someone is brought in on a 5150 call, it means they're being hospitalized involuntarily. A psychotherapist told Entertainment Tonight in a 2015 interview that 5150 calls are made when someone close to a person believes they can't make healthy decisions for themselves. Dr. Robi Ludwig told the outlet,
It's usually a person who is in a sicker state that ends up in a hospital involuntarily because other people have decided that they can't make decisions on their own behalf and they usually are considered a danger to themselves or others at least for a period of time.
A 5150 call only allows for patients to be held for a maximum 72 hours, and Disick was reportedly not held for the full length of time. The Los Angeles Fire Department told Us Weekly,
On August 18, LAFD responded to a call from the home of Scott Disick. Lost Hills Sheriffs were also on the scene shortly there after. LAFD officials transported Mr. Disick to a local hospital. No other information will be given out at this time.
Kanye West was also hospitalized last year for a reported "psychotic breakdown" in November 2016. West's hospitalization came shortly after Kim Kardashian was robbed and held at gunpoint in Paris in October 2016. The breakdown was reportedly the result of excessive stress and extreme sleep deprivation. Before his hospitalization, Kris Jenner said she thought the Saint Pablo Tour was draining him. She said,
I think he's exhausted. Just really tired. It's a grueling tour.
Disick spent some time in rehab two years ago after struggling with drugs and alcohol. And, according to reports, he has had a hard time dealing with Kourtney Kardashian's relationship with model Younes Bendjima.