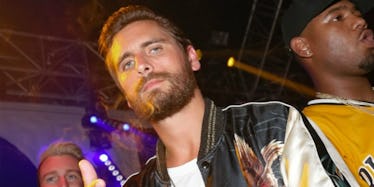 We Need To Talk About What's Going On With Scott Disick
REX/Shutterstock
Scott, WHAT is UP, dude?
We know from watching his life and love story play out on TV that it's tricky for Scott Disick to be away from his baby mama, Kourtney Kardashian, and it's been particularly challenging for him in recent years with the death of both his parents and the split from Kourt.
We have watched the father of three jump in and out of rehab, struggle with partying and alcoholism, and swing wildly from being a mean a**hole, shoving dollar bills in servers' mouths, to a lovable goofball, just trying to get sad Rob Kardashian to smile.
Overall, I think we can agree Scott isn't a bad guy, but... like... yeah, I mean, the kid needs to work some things out.
All of this to say, it looks like Scott has been in yet another downward spiral since the Cannes Festival.
Around the time Kourtney was spotted jet skiing with 23-year-old model Younes Bendjima, it looks like Scott has been on a mission to watch his world burn.
Being linked to and photographed with a variety of super young women, it looks like Scott is trying to get revenge.
Starting with a few Bella Thorne photos, followed by a couple of Chantel Jeffries butt grabs, one or two mystery brunette pics, and a rumored fling with Sofia Richie, Scott has been making some weird rounds and isn't afraid to let the paparazzi know.
A source close to him told People, "He's going pretty wild, and I've told him that his wild behavior is going to cost him his family if he's not careful."
Which, according to the same source, could already be happening. Allegedly, Kourtney won't let him see the kids until he gets his act together.
The source added,
Sometimes, he sees the world through the lens of what he wants, and not what's good for the people around him… sometimes he goes through this spiral where it's all about Scott, and that is clearly what's happening now. He needs a lot of prayer.
Scott, take a shower, eat some food, take a nap and call us when you wake up. It's going to be OK!
Citations: Scott Disick's 'Out of Control' Behavior Is 'Going to Cost Him His Family If He's Not Careful,' Warns Source (People)