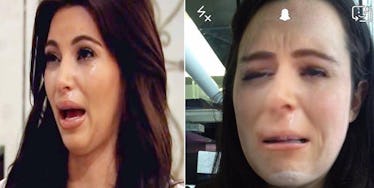 I Face Swapped With Pics Of Kim Kardashian Crying, You're Welcome
E!/Snapchat
There are two things I love more than anything else in the world: Kim Kardashian and Snapchat.
LOL, OK, don't roast me yet, I'm 75 percent kidding. But seriously, what would life be like if you couldn't send photos of your triple chins to your friends?
And don't even get me started on where we'd be without Kim K. NO KIMOJIS? NO "KEEPING UP WITH THE KARDASHIANS"? NO NORTH WEST? Oh please, we wouldn't survive for a second.
If you haven't heard, there's a new Snapchat filter that allows people to face swap with any picture from their camera rolls. Yes, it's real. And yes, it's life-changing.
In other words, it's now possible for you to face swap with photos of Kim Kardashian's crying face. FINALLY, THE ANSWER TO OUR PRAYERS. THIS IS WHAT I'VE BEEN WAITING FOR SINCE BIRTH.
Of course, Kim Kardashian has multiple crying faces. The girl bawls her eyes out like, every episode. It's OK, Kimmy, I'm a crier too. Hush hush, I'm here for you.
But anyway, to investigate this new Snapchat update further, I decided to face swap with every photo of Kim Kardashian crying on the Internet that I could find in two minutes.
What I learned is simple. I thought I looked gross AF with zero filter, but mixing in one of Kim's crying faces took things to a whole new level of UGLY.
Let's start with this one. Not too bad, right? I mean, it ain't cute, but I've seen worse.
OK, now we're getting somewhere. It looks like someone just spit in my eye. Maybe that's why we're crying?! Who knows?
OH, HELL NO. Kimmy's tear drops make it look like I'm about to snot rocket up a storm. SHIELD YOUR EYES, THIS SH*T IS NASTY.
Eh, I kind of look the same here except with a f*cked up spray tan. OK, well it's still ugly so FML, right?
WTFFFFFFFFFF IS THIS?
AHHHHHHHHHHHHHHHHH.
Aw, this one's kind of cute.
Yikes. Kim, we are not looking our best here.
OR HERE. DA F*CK HAPPENED TO MY FACE?!?!?
Here's one more for good luck. Kim's not crying, but come on, I had to.
Kim, I think it's best if we never do this again.