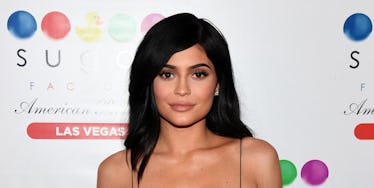 The 'KUWTK' Special Didn't Talk Kylie Pregnancy Rumors And Twitter Is So Pissed
Ethan Miller/Getty Images
If you are a human being who has ever watched TV, you are almost certainly talking about those Kylie Jenner pregnancy rumors. Everyone is on tenterhooks to find out the truth after the news broke on Sept. 22 that the youngest member of the Kardashian-Jenner clan might be pregnant. And everyone watching the 10th anniversary special of Keeping Up With The Kardashians on the evening of Sunday, Sept. 24 was seriously convinced that the KUWTK special would announce Kylie Jenner's pregnancy as the finale.
And, well, it didn't, and she didn't. And honestly? I'm kind of pissed.
I know that this was probably filmed ages ago and the likelihood that she would talk about being preggers was pretty slim, but there was so much hope that it was actually starting to convince me. I was over here ready with the bubbly, getting hyped to celebrate the advent of a new little Kardashian-Jenner. But Jenner is playing these rumors close to the chest. Not a peep out of the girl, and now I'm just sadly sipping warm Prosecco by myself, with no confirmed rumors to wash it down.
What makes it even more frustrating? Jenner messed with us all day on Sunday, sharing cryptic Instagrams that just barely showed her belly. Ugh, Kylie, throw us a bone, can't you?
At the very least, it looks like I'm not alone in being frustrated. There are a whole lot of people out there who only watched the special because they were convinced that she was going to spill the beans.
People were legit convinced that we'd know for sure tonight.
A quick recap: way back on Friday, TMZ reported that Jenner was pregnant with boyfriend Travis Scott's baby. She's supposedly been "looking pregnant" for about four months per Page Six, but has only started telling people within the last month. Jenner and Scott have been together since April, so that's some speedy work if it's all true. The pair are supposedly having a girl, according to reports, but considering that we don't even know for sure if the pregnancy itself is the real deal yet, I'm going to take it with a grain of salt.
And if you're here for the extra drama? There's also a rumor that Jenner is acting as a surrogate for big sis, Kim Kardashian.
I am not even joking. Kim Kardashian, who's already the mom to North, 4, and Saint, 21 months, has been open about her fertility troubles and the fact that a third pregnancy could put her health at risk. She suffers from a condition called placenta accreta, which is both dangerous and painful. And she's been pretty open about the possibility of finding a surrogate to have a third child. She told The Hollywood Reporter,
I hope so. There have been a lot of things said, and Kanye and I have not confirmed anything. We're definitely trying. We are hoping so.
And a lot of people think that the timing is pretty convenient, considering that there were already rumors that Kim K and Kanye have a third baby on the way — and it would be pretty close to home if little sis Kylie Jenner volunteered as a surrogate. I'm going to be real, I think this theory is pretty out there, to be honest. But it's not impossible.
And either way, fans just wanted to know something for sure. And when Sunday night's special ended without a revelation — and sneakily editing around Jenner's back so fans couldn't see whether she drank the champagne that was being passed around or not, ugh, guys, can't you give us anything? — Twitter was losing it.
The frustration is palpable.
I mean, truth. I love me some Kardashians, but there's no reason I have to sit through it as it airs live. That's what streaming is for. I have other things to do on my Sunday night.
Oh well. I guess we'll have to wait and get confirmation of this — or not — the same way we always do, through shady "sources" that are spilling the beans on their friends.
It's gonna be a long wait.