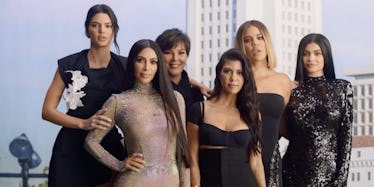 Kim K & Her Fam Recreated The Opening Credits For 'KUWTK' Season 1 & It's Amazing
E! Entertianment
You know it. You love it. It's the nostalgic Keeping Up With The Kardashians Season 1 opening credits that will remain in our hearts forever. The sequence shows a much, much younger family all rushing to the front yard of their famous house and lawn to shoot the opening sequence for their new hit show. Of course, it ends with Kim trying to steal the spotlight. Now, the famous sisters got together with momager Kris Jenner to recreate the epic intro as promo for their 10-year anniversary special, with just a little more flair and a touch more money.
Think back to a simpler time. Kylie and Kendall were your average lanky tweens. Rob Kardashian was, like, around. Khloé had brown hair. The big joke, of course, is that Kim had to be the center of attention, famously announcing in an early KUWTK episode that she was the number one most-Googled person on the planet.
Now, I'm not saying that all of this came true and then some, but the girl did make everyone famous. Can we all agree?
In the reboot, each woman gets a special moment winking at her current life as we understand it. Kris is flying in a helicopter. Kourtney is rocking a bikini, which has weirdly turned out to be her thing. Khloé is burning sweat in the gym. Kendall is on set for a fashion show. Kylie is driving her orange Lamborghini and... getting a speeding ticket? Whatever.
The big punchline is, "Where's Kim?"
Where is she? See for yourselves.
Yup, you guessed it. Kim is "late" because she is busy being waited on hand and foot by a magical glam squad custom-designing her a sparkle jumpsuit. Obviously.
This all just goes to show that despite the world of haters out there coming for the Kardashians each and every day, they still know how to make fun of themselves and look fierce AF while they do it. We wouldn't love them so much if it were any other way.
After the girls all assemble, the rest of the video pretty much mimics the original credits to a "T." Kim tries to take the spotlight and stand in the front while all of her sisters push her aside. To cap it off, Kylie pulls the special rope, dropping the back-drop and revealing Kris Jenner's old home. It ends with the classic Kardashian whistle. (I don't know how to type it, but you guys know what I'm talking about.)
Here's the original for reference.
The world has been patiently waiting for the tenth anniversary special airing this Sunday, Sept. 24, especially after Kim tweeted the teaser herself. In her caption, she wrote,
10 years!! So excited for the new season, starting with our anniversary special this Sunday! #KeepItKardashian @KUWTK
Keeping it Kardashian for 14 seasons, to be exact. The special is ramping up to the Season 14 premiere, airing on Oct. 1. Fans can tune into E! at 9 p.m. ET to catch all of the action, though we can't possibly imagine what is up the family's sleeve this time.
After one original sex tape scandal, several marriages, multiple divorces, five (maybe six) babies, dozens of businesses, the Paris Robbery, a public gender transition, a mental break down, numerous houses, a variety of TV spinoffs, and all the boobs, butts, money, fame, followers, and attention... I literally can't imagine what is coming next.
Deadline reports that Jeff Olde, the EVP of Programming and Development at E!, commented,
Since the show's inception 10 years ago, viewers have watched the family evolve, grow and become a huge part of today's pop culture zeitgeist. In celebrating the family's decade on the air, we are extremely grateful for the fans all over the world who have 'kept up' since the beginning.
No, thank you, Jeff. Thank you.
Check out the entire Gen Why series and other videos on Facebook and the Bustle app across Apple TV, Roku, and Amazon Fire TV.