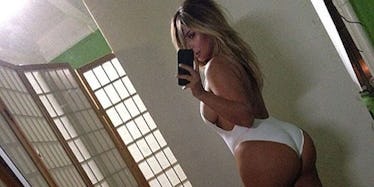 Celeb Trainer Reveals 5 Secrets To Getting Kim K Bum Without Ever Doing Squats
Instagram
Thanks to the big butt craze, it seems like everybody wants a tiny waist paired with a perfect peach emoji booty these days.
Last week, we introduced you to Abby Pollock, a young woman who posted amazing side-by-side pics to show off her truly miraculous butt transformation.
If there is one thing we can learn from the drastic change in Pollock's derrière, it's that exercise is key when it comes to flaunting a super toned tush that can put Kim Kardhasian's butt to shame.
However, figuring out the right combination of exercises required to build a rock solid rear is often easier said than done.
If you're sick of doing squat after squat with little to no results, then you came to the right place.
Nicola Addison, a celebrity personal trainer who has built up a list of famous clients including Elle Macpherson, Daisy Lowe and Erin O'Connor, just revealed five secrets to getting the big Kim Kardashian booty you've always dreamed of.
The best part about the workout is none of Addison's booty-building exercises include endless repetitions of boring old squats, either!
Addison recently shared a series of videos with MailOnline that break down each of the exercises she employs in her butt workout.
Apparently, all you have to do is 30 repetitions of each booty-sculpting exercise two times a week.
Following this rear-focused fitness regiment is so easy, you're guaranteed to have a head-turning tush like Kim K in no time.
Check out all the videos below to see some exercise moves that will quickly whip your butt into shape.
High Step Ups
Clams
Frog Pumps
Hip Bridge
Curtsey lunge
If you're looking for more even moves that will help you score a nice butt, Addison also posts a variety of awesome booty-sculpting exercises on her Instagram account.
Citations: How to get a perky bum without EVER doing a squat: Celebrity personal trainer who helped sculpt Elle Macpherson's body reveals the five moves for an A-list behind (Daily Mail)