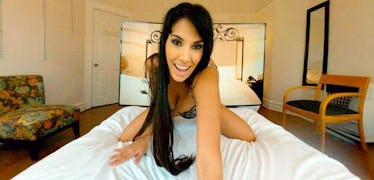 Kim Kardashian's Sex Tape Gets A VR Experience Allowing You To Be Ray J
Vivid Entertainment
Being Kim Kardashian cannot be easy.
I mean, one minute you're being robbed of millions of dollars in jewelry, the next minute the same company you sued for illegally circulating your sex tape is now releasing an entire VR experience based on it.
That's right, Vivid Entertainment is offering up "The Kim Kardashian Superstar Experience," an adult film experience using virtual reality technology allowing viewers to immerse themselves in the action as if they were Ray J.
According to US Weekly, the "experience" begins with original footage from Kim Kardashian's infamous sex tape. Shortly after, viewers are introduced to a Kim K. lookalike who begins to interact and perform various sex acts on them.
The product description reads,
This virtual experience gives you your first chance to see what it would be like to make your own personal home video with the reality celebutante, Miss Kim Kardashian. She comes right out of her famous home video with Ray J to have some fun with you.
Seems legit.
Something tells me Kanye is NOT happy about this.
The doppelgänger then begins communicating with the viewer, who is wearing a helmet and headset. She says things like, "I know you bought the video because you wanna see me. Why don't we just play here?" and "Hi there, I like your room."
The woman then begins to pleasure herself with one of her trusty sex toys for your enjoyment. Look, I'm no porn connoisseur but something about this "Kim Kardashian Superstar Experience" seems pretty underwhelming.
Not only does the adult actress in the film not really look like her, but "Hi there, I like your room" is one of the weakest pickup lines I've ever heard. It's not seductive, not original and NOT Kim-like.
Come on...
I highly suggest going back to the drawing board, Vivid. This seems rushed!
Furthermore, Vivid, I don't know if NOW is the right time to try and capitalize on a sex tape from 2003. I mean, Kim has two kids now. She's happily married and she's trying to recover from a traumatic robbery. Now is not the time, you fools.
Give the woman a break!
Despite the fact that Kim sued Vivid Entertainment over the release of her sex tape with Ray J back in 2007 and settled for a reported $5 million, it is unclear if Vivid is violating any terms with the release and production of this new VR experience.
Citations: Kim Kardashian's Sex Tape Reimagined as a Virtual Reality 'Experience' (Yes, Really) (US Magazine)