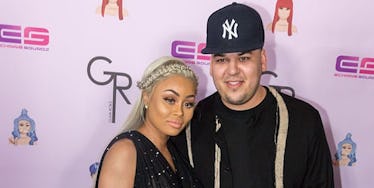 Rob Kardashian And Blac Chyna Just Put An Expensive End To Their Legal Drama
Greg Doherty / Stringer / Getty Images
Rob Kardashian and Blac Chyna seem to have been on a relationship rollercoaster since the moment they first publicly became a couple. According to the latest news, though, it looks like the "downs" are occurring more regularly than the "ups" right now, as they've been in a bitter custody battle over their daughter, Dream. The dust may be settling, though, because Rob and Chyna have allegedly come to a custody agreement, as first reported by TMZ.
According to TMZ, a big problem while trying to reach an agreement was the domestic violence allegation Blac Chyna leveled against Kardashian. That allegation came out in July after Kardashian went on an Instagram rampage, posting revenge porn (which Chyna and her legal team alleged violated California's revenge porn laws) of Chyna after he accused her of cheating on him with another man. TMZ also reported that Kardashian accused Chyna of physically abusing him. Eventually, Chyna was granted a temporary restraining order after detailing alleged incidents of abuse by Kardashian against her.
The pair, who were engaged at one point, have apparently reached a custody agreement. TMZ reported that sources close to the situation told them that the deal will give Kardashian a little more than 50 percent custody of Dream. However, Chyna's attorney told E! News, "To correct some false statements...Rob does not have 'more than 50 percent custody.'" That is just the beginning of the agreement details, though. Kardashian will reportedly be paying double what he initially offered in child support.
According to TMZ's sources, Kardashian initially offered $10,000 a month in child support, but Chyna was looking for something more in the neighborhood of $50,000. They reportedly compromised at $20,000 a month in child support to ensure that Dream would have nannies to care for her when necessary, and Kardashian is reportedly paying for all of Chyna's legal fees. Neither of the pair's attorneys have confirmed or commented on the specifics of the child support agreement.
With the reported $20,0000 in child support, the sources told TMZ that Chyna agreed to drop the domestic violence charge against Kardashian. However, according to Chyna's lawyer, she agreed to drop the allegation for a different reason. Chyna's lawyer, Lisa Bloom, told People,
Because Rob agreed to continue to stay away from Chyna and not contact her, Chyna has agreed to take the domestic abuse hearing scheduled for Monday, Sept. 18, off calendar. She will always have the right to go back into court if further incidents of domestic abuse occur.
Bloom also told People,
Chyna is pleased that Rob has agreed to peacefully coparent Dream with her, as she has been requesting all along.
For his part, Kardashian's attorney, Robert Shapiro, told E! News,
Rob and Chyna working together put the best interest of their child first and have amicably resolved their personal matters.
People also reported that Kardashian has made some changes in his attitude. A source told the magazine that Kardashian is "listening to advice from his family and instructions from his lawyer to behave." If you're familiar with the Kardashian and Blac Chyna drama, then you know Kardashian has largely stayed out of the public eye for the past few years and has been struggling with depression. People's source also claimed that Kardashian "isn't healthy, and isn't making huge efforts to get healthier, but he does really care about Dream."
According to these most recent accounts, it sounds like both Kardashian and Chyna are working together to make sure that Dream is taken care of, despite their rocky past. Chyna told People back in July, "I feel that the key to successful co-parenting is communication and respect."
The pair's daughter is only 10-months-old, so they're going to be in each other's life for many years to come, and if they can both hold the kind of outlook on co-parenting that Chyna relayed to People this summer, that's a good start to making sure that their issues are dealt with in a responsible and respectful manner. Hopefully, they won't have to return to court, though Bloom did tell E! News, "This agreement does not resolve all disputes between Chyna and Rob."
Even if the compromise happens to come with a hefty price tag, it's still good to see that these two are trying to move past some really difficult issues to ensure that they are both working toward providing the best for their daughter.
Check out the entire Gen Why series and other videos on Facebook and the Bustle app across Apple TV, Roku, and Amazon Fire TV.