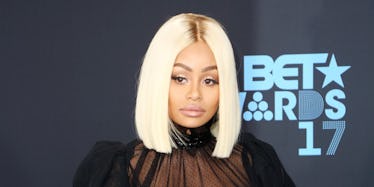 Blac Chyna Granted Temporary Restraining Order Against Rob Kardashian, Reports Confirm
Maury Phillips/Getty Images
Blac Chyna has been granted a temporary restraining order against Rob Kardashian, TMZ reported, and is now said to be holding a live press conference soon.
TMZ reports Kardashian was not present in court, but was instead represented by his lawyer, Robert Shapiro, who did not contest to the restraining order. Kardashian reportedly wants to do what's best for their daughter, Dream Kardashian.
The temporary restraining order reportedly states that Kardashian must stay at least 100 feet away from Chyna at all times. It it not currently known if the restraining order also applies to Dream. Kardashian's lawyer told TMZ posting the explicit photos of Chyna without her consent was "a spontaneous reaction that he regrets."
Elite Daily reached out to Chyna and Kardashian's teams for comment, but did not hear back by time of publication.
According to E! News, Chyna said in court, "Rob has been violent with me in the past and I am afraid to be around him." Kardashian has not publicly commented on the claims, but Elite Daily reached out to his team for comment.
Chyna's first apparent response to Kardashian posting revenge porn of her last week was two Snapchat screenshots found on Twitter that accused Kardashian of domestic abuse. The two separate snaps allegedly said,
Rob u did all this but u beat me up and try act it never happen !!!!! U put hand on me I swear on god !!!! On my kids but I'm supposed to be quiet because you're a Kardashian
And,
The light will come to the light
Chyna reportedly detailed an incident in court that explains the story behind her claims of domestic violence. She reportedly said back in April 2017 that she and Kardashian got in a fight during which Kardashian grabbed her phone from her hands and shoved her to the ground after screaming "I can say whatever the f*ck I want!" at her.
She allegedly described his actions as "aggressively shoving me by the side of my arm and hitting me on the thigh." According to reports, she could barely walk after she fell to the ground and was bruised.
In a press conference following the court appearance, Chyna's lawyer, Lisa Bloom, said,
We had a complete and total victory. The judge gave us everything we asked for, which was a set of very strong and enforceable restraining orders against Rob Kardashian, restraining him from coming near her and restraining him from cyber bullying, restraining him from posting anything about her online of a personal nature, including photos and videos. As we have said all along, revenge porn is a form of domestic abuse, it is also a crime in California and 38 other states, and it's a civil wrong.
Chyna also appeared on Good Morning America earlier this morning with Bloom.
In the video, Bloom says, "In California, revenge porn is a crime, a civil wrong, and a form of domestic abuse."
When asked what her initial reaction to Kardashian's posts was, Chyna said,
I was devastated, of course. I was like, 'How could somebody post these pictures of me?'
Chyna also reveals in the video she had blocked Kardashian on Instagram before he posted all of the revenge porn, so she didn't see it in her feed when it was first posted. She says she felt "betrayed" by Kardashian and that she tried to talk things out with him in the past.
She said,
Moral of the story is he doesn't respect me. So if you can't respect me, you have to respect the law.
Chyna also reveals no other members of the Kardashian family have reached out to her since Kardashian started posting revenge porn of her last week.
Chyna was even asked if her dating Rob was all a plot to get back at Kylie Jenner for "stealing" Tyga from her. To that, Chyna responded,
First of all, that's not even my character. And I see all these things on the internet, and I never address it because I'm the bigger person. Robert came at me.
When asked for her response to the claims that Chyna used Rob Kardashian for fame and fortune, she said, "I was already Blac Chyna before the Kardashians."
The video ends with Bloom saying,
Any explicit photos that she may have chosen to post in the past, that's her choice. This is like saying that a woman can't be raped if she previously chose to have sex with someone. It's her body, it's her choice each and every time.
Yup.