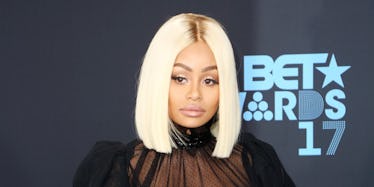 Blac Chyna Allegedly Posts Snapchats In Response To Rob Kardashian Leaking Her Naked Pics
Maury Phillips/Getty Images
Early today, Rob Kardashian posted a series of pornographic photos of Blac Chyna on his Instagram.
While the two have infamously had a rollercoaster relationship, this level of invasiveness and downright disrespect is a first for the young parents.
Elite Daily reached out to both Rob Kardashian and Blac Chyna for comment and had not heard back by the time of publication.
Within minutes of posting the naked photos, Rob seemingly deleted them from his page.
Quick to retaliate, Blac Chyna allegedly posted a series of Snapchats slamming Rob and accusing him of abuse, according to screenshots found on Twitter.
She reportedly posted one Snapchat stating,
Rob u did all this but u beat me up and try act it never happen !!!!! U put hand on me I swear on god !!!! On my kids but I'm supposed to be quiet because you're a Kardashian
And a second stating,
The light will come to the light
Chyna also posted the following Snapchats of her watch and bracelet, which are currently still up on her Snapchat account.
She captioned the blingy photos with a simple "lol."
These heavy allegations are indeed troublesome, and Rob's wildly unacceptable handling of the situation is jaw-dropping.
In addition to a series of naked photos, Rob claimed he paid for Chyna's plastic surgery, captioning a video of her in the hospital:
Everyone wonders how Chyna lost all that weight after the baby and she lies to everyone but no I'm such a great Husband that on our anniversary I paid 100K to do this surgery to get all everything fixed as much as they could. And then guess what she did after she was all healed when I was by her side the entire time. She left me and my baby which she had out of spite to get back at her other baby daddy. I can't believe u would disrespect me like this
The reality star also claimed Chyna is on drugs, their Father's Day trip to Disney Land was staged, and Chyna has been spreading lies about him on social media. 
Although we have seen media-frenzied feuds between the couple before, this one should not be taken lightly.