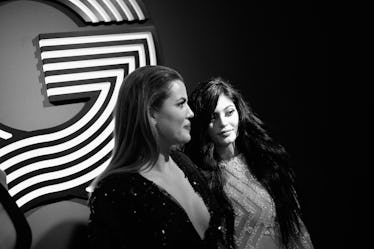 The Kardashians Are Reportedly Planning Out Their Nurseries & We're Already Jealous
Michael Buckner/Getty Images Entertainment/Getty Images
It's been hard to keep up with which of the Kardashians are actually expecting a baby at this point. Rumors have been swirling that Kylie and Khloé are both pregnant and doing very cute, sisterly pregnant activities together. According to a report from People, Khloé Kardashian and Kylie Jenner are designing nurseries, and basically living their best lives possible.
So far, the only sister in the Kardashian clan apparently owning up to expecting a child is Kim. The reality star, who is is having a baby via a surrogate, revealed the news during a promo for KUWTK. The brief snippet shows Kim saying to Khloé, "What happens every time I say, 'Guess what?'"
Khloé responds, "The person's pregnant?" To which Kim confirms, "We're having a baby!"
OK, so that's all well and good, but what about her two sisters?
TMZ and US Weekly have both reported that Khloé and Kylie are pregnant, and there has been some pretty damning evidence to back that up.
Like this snapchat that Khloé posted with her boyfriend Tristan Thompson:
Also this super cryptic tweet from Thompson following all the rumors.
There's been a lot of secrecy on Kylie's part – though there's apparently an explanation for that. A source told People that the reality star wants to "keep a low profile" and that she's "doing her best to stay out of the public eye."
The source added,
She feels good, but her body is changing. She doesn't want to be photographed. At the moment, she wants more privacy. She has family and friends come to her house instead so she has company. She is very excited about the baby though. She talks about the baby nonstop. She is already shopping like crazy.
That nugget of information fits in nicely with the latest Kylie/Khloé baby watch rumor, which claims that the rumored moms are already designing their nurseries together — with Kim and Kourtney's help (natch). A source told People,
Khloé and Kylie are both starting to plan out their nurseries, and Kim and Kourtney are also involved in the process. All the sisters are super excited, and Kris has been helping as well.
The source added that Khloe is currently looking for a home with Thompson, and that she's "thrilled they've taken this next step together ... the whole family is being super supportive of each other."
Now if you're too antsy to wait and find out what these reported nurseries will look like (I get it, news has been bleak lately), then we can look to Kim K's nurseries for context.
Baby North West was given an all-white nursery, complete with a $3,950 crib (the same one that Beyoncé and Jay-Z reportedly snagged for Blue Ivy). Plus, we also have Kourtney's nursery as reference, which featured an Alice In Wonderland theme for baby Penelope.
"I was going to go all white but I first found this pink wallpaper — it's pink grass cloth from Ralph Lauren," Kardashian told InStyle. "I get so happy when I go into her room. It's my favorite room and I did it all myself."
She added to Architectural Digest that she wanted her kids' rooms to have "element of magic, something that really sparks their imagination."
"This process is not about making a design statement," she said. "It's about crafting spaces that foster a sense of wonder and discovery and at the same time make the kids feel totally secure and comfortable."
So, basically we can assume that Khloé and Kylie will design rooms that are magical, beautiful and very, very expensive. Bonus points if we get KUWTK footage of this whole nursery design process, preferably involving Kanye barging in and offering unsolicited advice.