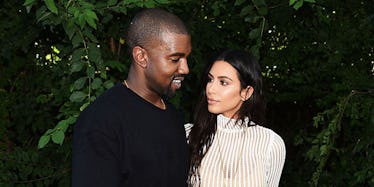 How Much Money Will Kim K's Surrogate Make? Here's The Reported Breakdown
Jamie McCarthy/Getty Images for Yeezy Season 4
New updates are coming out of the Kardashian West camp, and People is reporting that Kim Kardashian will be using a surrogate to carry her third child.
Due to Kardashian's tricky birth condition — placenta accreta, in which the placenta attaches too deeply into the uterine wall, as outlined by Americanpregnancy.org — it could be life-threatening for Kim to carry a third child to term. Therefore, the family has allegedly decided to move forward with surrogacy.
Elite Daily reached out to Kim Kardashian and Kanye West's teams for comment, but did not hear back by time of publication.
According to TMZ, the famous couple reportedly needed to pay a deposit of $68,850 dollars to their agency, just to start. And that's not all.
Allegedly, the cost breaks down in the following ways.
Kim and Kanye will need to pay 10 monthly installments of $4,500 each, for a grand total of $45,000. If the surrogate becomes pregnant with more than one child, she is paid an additional $5,000 per baby. If through the process she is unable to keep any of her reproductive organs, she will be paid $4,000.
Wow.
Of course, there are a variety of rules about the lifestyle of the surrogate. According to TMZ,
The surrogate is required to refrain from smoking, drinking and drugs during the pregnancy. She also agrees to restrict sexual activities in the weeks leading up to the pregnancy, including foregoing sexual intercourse for 3 weeks following embryo implantation. The surrogate cannot go in hot tubs or saunas, cannot handle or change cat litter, apply hair dye, drink more than one caffeinated beverage per day or eat raw fish.
As much as Kim lives her life in the limelight, a decision like this is extremely personal and the public should take care to respect both her and her surrogate's privacy.
Sending everyone good luck and love, Kim!