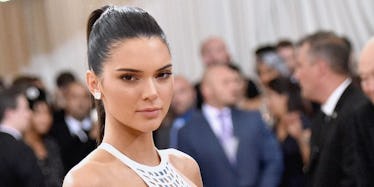 People Are Pissed At Kendall Jenner For Using This Emoji On Twitter
Getty Images
Another day, another thing Kendall Jenner has done to piss people off on Twitter. This time, Kendall Jenner's emoji on Twitter has people annoyed. The Kardashian/Jenner women were recently featured on the cover of The Hollywood Reporter for the 10-year anniversary of Keeping Up With The Kardashians. Naturally, the women of the family posted about the cover shoot/interview online, including Kendall. Seems pretty harmless, right? Well, some people aren't pleased with her choice of emoji. Elite Daily reached out to Jenner's team for comment, but did not hear back by time of publication.
Jenner's tweet said, "sister power...girl power" with the fist bump emoji. But it's the skin color of the emoji she decided to use that pissed people off. As we iPhone users know, there are six different colors to represent different skin tones for the hand emojis. Jenner used one of the darker shades, even though she's white. And that's what has people up in arms.
Lots of people are saying she needs to "stay in her lane" when it comes to emojis, meaning that since she's a white woman, she shouldn't be using the emojis meant for people of color when using them to represent her family. Other fans think this is just another stupid reason to get mad at Jenner and that her choice of emojis doesn't need to be policed.
Kendall Jenner has been under a lot of heat ever since that dreadfully tone-deaf Pepsi commercial; she just keeps pissing people off with her actions. And some fans who used to be die-hard Kendall Jenner stans went so far as to remove themselves from the Kendall Jenner fandom because of a long list of things she's done that they disagree with.
For example, there was the controversial Pepsi commercial. Then there was the insensitive t-shirts Kendall and Kylie Jenner sold that had photos of Tupac and Biggie covered by their own faces, which Biggie's own mother publicly condemned. Then earlier in August, Jenner was accused of not paying tip at a bar in Brooklyn when the bar posted a picture of her receipt sans tip on social media. She claimed she paid in cash, but the bar (Baby's All Right) said she was lying. So yeah, Kendall Jenner hasn't been having the best summer.
Fans think she needs to "stay in her emoji skin tone lane."
But lots of people don't think this emoji thing is that big of a deal.
Jenner hasn't responded to any of the backlash, but after all of these months of Jenner pissing people off for reasons bigger than this emoji one, it's really easy to understand why they'd be pissed about something that seems to be small.