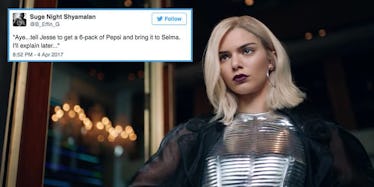 10 Hilarious Memes That Show How Ridiculous Kendall Jenner's Pepsi Ad Really Is
Twitter/Youtube
Kendall Jenner was completely clobbered by outraged Twitter users on Tuesday over a tone-deaf Pepsi ad that boldly exploited the Black Lives Matter movement.
In the ad, Jenner is modeling for a photo shoot when a protest in the street catches her eye and she drops everything (including her blonde wig) to join.
She marches through the streets seemingly in protest for "black lives" -- a practice she's never performed in real life and a phrase that was never included in the actual video, despite its obvious bite off of the movement.
Ultimately, Kendall Jenner ends up calming hostile police officers down by offering one of them a Pepsi. He even gives a satisfied look to the other boys in blue to signify just how powerful that bubbly drink is.
Because a little dark soda is all you need to get police to treat the darker people like humans, right? Now we can all dance in the streets!
What a boss (read: make-it-about-me) move.
Still, the anger that kept Kendall and Pepsi trending for hours didn't stop Twitter from conducting business as usual -- that is, getting a few jokes off.
Didn't we tell you that Black Twitter's humor is undefeated?
From the Civil Rights Movement, to Jay Z video clips, to his wife, Beyoncé's old Pepsi ad: Black Twitter stays with the jokes.
Here are all the memes that poke fun at Kendall Jenner and Pepsi while calling out their faux-solidarity:
Apparently, Pepsi is the tool black folks needed all along.
The beverage basically brings people together...
... And changes racialized policing in an instant.
Is it the carbonation?
Gotta be those bubbles.
Police will actually do you a solid if you got that soda?
Not Coke. Just Pepsi, right?
Why didn't you say so?
One more question though, fam...
Exactly when does this kick in for actual black people?
If Kendall Jenner and Pepsi could finesse a safer environment for victims of police violence IRL, then maybe Twitter might take their mission more seriously.
'Til then? Pass.