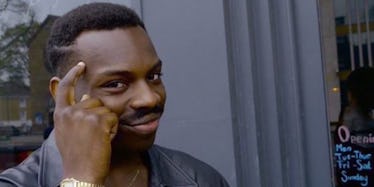 16 Memes That Prove You Need Black Twitter In Your Life
Twitter
I want to tell you about a place I go to when I'm in need of a laugh or inspiration. It's place that keeps me in the know, and above all else, is like a fundamental home away from home.
This place, my friends, is Black Twitter.
It's the virtual black lunch table in a predominately white cafeteria.
For much of the black community, Black Twitter has become our sanctuary. It's a place where we can connect, share stories and inside jokes. It is the virtual black lunch table in a predominately white cafeteria.
Here's why Black Twitter has become such a special place.
Hilarious Memes.
I wish I could brag that a black person originally conceptualized memes, but that just isn't true.
What I will say, and rightfully so, is that once black people discovered memes, they made them an entirely new entity. It's kind of like when Apple got a hold of smartphones.
Twitter has been the perfect platform for such art.
The crying Michael Jordan meme is a prime example. Highly praised as one of the greatest NBA players of all time, for years Jordan was practically untouchable.
That is, until, Black Twitter got its hands on him.
Michael Jordan is a legend, and his legacy will last until the end of time, but the crying meme will forever be a dark cloud raining on Jordan's parade.
Let this be a fair warning: Black Twitter takes mercy on no one. Everyone is fair game.
Here are a couple more classics we can't forget:
And a few recent, quick-witted memes that I'm sure will last a while.
Black Twitter Affects Careers.
The immense amount of creativity behind so many memes shared on Twitter have even helped the careers of subjects of certain memes.
Recently, Salt Bae was next in line to benefit from Black Twitter's graces.
After Black Twitter made him viral, he will be opening a restaurant in London, and just recently blessed Leonardo DiCaprio with his salt sprinkling skills.
With the power to help one's career also comes the power to taketh away. Twitter is often haunted by egg-faced trolls who spew hateful and racist tweets.
Thankfully, much of Black Twitter is made up of people with impressive investigative skills.
Handfuls of trolls have been found and penalized.
Black Twitter challenges the media.
Black people have created a space where they can shape their own identities, without the media relentlessly tarnishing it.
It has reinforced an image that is often inaccurately framed by the media.
It's also brought light some significant issues that weren't being covered by the media.
It displays individuality.
In a world where platforms like Instagram tend to influence people to reflect a life that isn't their own, Twitter proves to be the opposite. It is a virtual diary, and has a fearless way of showcasing one's inner most thoughts.
From constantly sharing "unpopular opinions," to the dreaded annual debates about $200 dollar dates, Black Twitter challenges you to share your honest opinion and engage those who disagree.
Some are fun.
Others are annoying.
One thing is for sure; you will be humbled. Most of those who make a fool of themselves will get called out with the quickness.
But, at the end of the day, it's all fun and games.
And that's the beauty of it all.
From threads of funny stories to vines, gifs and memes, you will always find something that makes you say, "this is literally my life."
Black Twitter is the heart of Twitter itself.
And that goes for all cultures. Although we call it Black Twitter, we attract people from all walks of life. Its arsenal is overflowing with range and versatility drawing attention from all types of people. And while you can be intrigued, please do not overstep your boundaries.
It is a valuable gem that should be appreciated, not appropriated. Relish in the beauty, but don't steal our glory.
Black Twitter has showcased talented, inspiring beings that we always knew existed. Now, the world knows too.