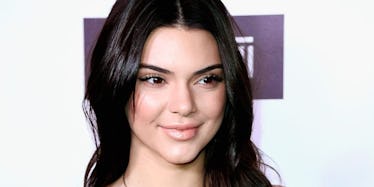 NYC Bar Fires Back At Kendall Jenner After Star Claims She Tipped In Cash
Getty Images
Kendall Jenner has pissed people off... again. Earlier this week, Jenner visited Baby's All Right (a popular bar in Brooklyn) with some friends, but she seemingly did not leave a tip for the bartender. The bar posted a picture of Jenner's receipt on its Instagram earlier this week, showing her signature and everything, no tip included. Shady. Baby's All Right's Instagram about Kendall Jenner not tipping went viral, but has since been taken down.
Jenner responded to the Instagram post in a tweet on Monday, Aug. 7, saying, "damn, I guess next time we won't tip in cash." And now, the saga is continuing via Baby's All Right's Instagram. On Tuesday evening, the NYC bar posted a screenshot of Jenner's tweet. The post has since been deleted, but the caption read,
'I'm not upset that you lied to me, I'm upset that from now on I can't believe you.' -Nietzsche #nocashtip
Yikes. It seems like Baby's All Right accused Jenner of lying about paying the tip in cash. The shade! Although, I would like to point out that I'm genuinely surprised Jenner didn't spend more than $24 at a bar in NYC. Based on every single music video ever, I thought celebrities blew all of their money when partying. So this very low bill is shaking me to my core.
Kendall Jenner:
Baby's All Right:
There's obviously no way for us to know the truth about whether or not Kendall Jenner tipped her bartender on that ~fateful~ night, but this shade war is proving to be really entertaining, so I'd like for it to continue. Fans aren't shocked that Jenner was allegedly shady to the bar, seeing as some of her biggest fans have decided not to support her anymore due to a long list of things she's done that they don't approve of.
But it's also true that the Kardashian/Jenner family gets a lot of hate from people. Celebrities in general are always subject to outrageously untrue rumors (that's no secret), and there have been a lot of false conspiracy theories about the Kardashian/Jenner family over the years. Take the theory that Khloé Kardashian's father is O.J. Simpson, for example. The family has denied those claims time and time again, but some fans will only believe what they want to believe.
Khloé Kardashian actually came to Jenner's defense over this Baby's All Right issue. She tweeted on Monday, Aug. 7, saying "People are f*cking pathetic!!!!! It's always something!" 
She's clearly done with people making stuff up about her family. But like we said, there's really no way for us to know who is telling the truth in this situation.
It's all just very shady, and I'm here for it, honestly.