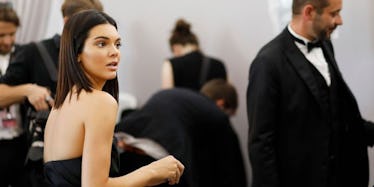 Kendall Jenner Fires Back At Fans Who Accused Her Of Not Tipping Her Bartender
Tristan Fewings/Getty Images
Kendall Jenner has been clocking in some serious R&R in New York City this summer, and recently stepped out for a night at the bar, the way any regular 21-year-old might. The model and reality TV star was spotted at Baby's All Right in Brooklyn on Friday, Aug. 4, where she apparently purchased a few drinks and left. Of course, someone snagged a photo of her receipt, in which her name and signature are clearly displayed, but there was no tip. Drama ensued. Now, Kendall Jenner's response to not tipping a bartender is making its rounds and this model is clapping back. 
I used to think being young and famous was the coolest thing in the whole world, but ever since the Kardashian/Jenner clan has shown me it's, like, really, really, really, hard, I've thought twice. The photo was up for three days on Baby's All Right's Instagram account with the caption, "Don't forget to tip your bartender," but has since been taken down.
Still, the damage was done. The backlash on social media was almost instant, with people weighing in on both sides of the argument. Some people suggested maybe she tipped in cash, and others accused her of being a "cheap," spoiled, celebrity brat.
Oof.
Kendall, who usually keeps her head down and stays above the drama, was not having it this time. She took to her own social media account to clear the air.
She tweeted, "damn, i guess next time we won't tip in cash."
Sister Khloé Kardashian also jumped to her defense, bringing a bunch of exclamation points with her.
In her little sister's honor, Ko-Ko tweeted, "People are f*cking pathetic!!!!! It's always something!" 
Honestly? It probably is always something. My guess is Kenny just dropped some singles and left. I mean, it's not like she rang up an outrageous tab or anything. (I've done more wallet damage sneezing in New York than this girl did as a celebrity at a bar.)
Still, tip your bartenders, guys. Even if you're a Kardashian/Jenner/ethereal-creature-hybrid.