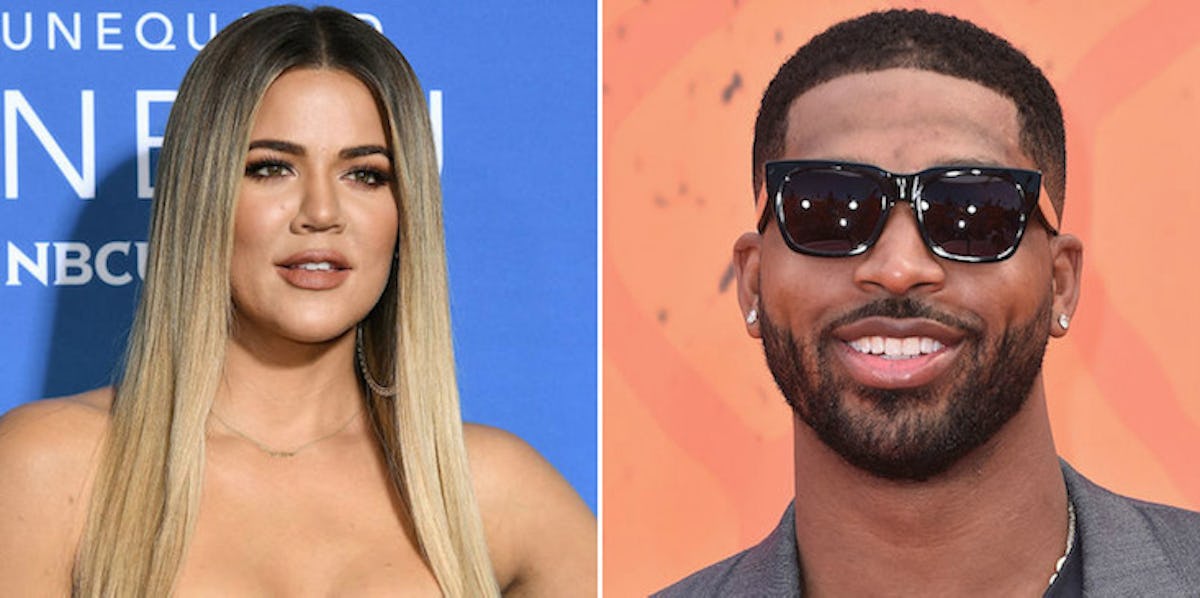 Tristan Thompson Tweets Cryptic Message Following Khloe Kardashian Pregnancy Rumors
Dia Dipasupil/Alberto E. Rodriguez/Getty Images
According to sources who spoke with Us Weekly, Khloe Kardashian is reportedly pregnant with Tristan Thompson's baby. Now, the basketball player is going to Twitter to respond to the rumors. Tristan Thompson's response to Khloe Kardashian's pregnancy rumors is a cryptic tweet and will make fans question if the reality star is really expecting her first child.
UPDATE: On Dec. 20, Khloe Kardashian confirmed that she is expecting a baby with Tristan Thompson in an Instagram post.
EARLIER: Elite Daily reached out to Kardashian's team for comment, but did not hear back at time of publication. On Thursday, Sept. 26, the news broke on Twitter and fans immediately looked to Kardashian and Thompson's social media accounts for answers. Shortly after Us Weekly broke the news, Thompson tweeted a cryptic message.
Rather than responding directly to the reports, Thompson posted two sets of eye emojis. As you can imagine, fans lost their sh*t. Is a set of eye emojis a way for Thompson to tell fans he's confirming the report? He certainly isn't denying it. However, he could just be "watching" a fake news story unfold before his eyes.
In the last week, we've learned about two reported pregnancies in the Kardashian family. On Friday, Sept. 22, TMZ broke the story that Kylie Jenner is reportedly pregnant with boyfriend Travis Scott's baby. Jenner nor Scott have commented or confirmed the reports, but Elite Daily reached out to both teams. A source reportedly told People magazine, "They started telling friends a few weeks ago… The family has known for quite some time. She is really excited and so is Travis." Another source added, "It is an unexpected but completely amazing turn of events that she could not be more excited or thrilled about."
According to reports, Kylie Jenner and Travis Scott are reportedly expecting a girl in February. This will be right around the time Kim Kardashian and Kanye West reportedly will expect their third child via a surrogate mother. Early September, Kim Kardashian addressed surrogacy reports but did not confirm anything. The reality star told E! News,
I've definitely seen a lot of things, we've never confirmed anything. So, I think when we're ready to talk about it we will, and I think it's super invasive when people are just… So many details out there, and like I've never heard this, I've never heard this. Like whatever. We have not confirmed it, and that's that. I'll let you know when we're ready.
OK, so what you're telling me is there are reports that THREE KARDASHIAN BABIES ARE ON THE WAY? This is seriously too much for me to take. Kris Jenner's cell phone is probably blowing up right now with texts from publications and her BFF Ryan Seacrest. On Monday, Sept. 25, Kris Jenner actually texted Seacrest while he was filming Live With Kelly and Ryan. The host explained he texted the momager for confirmation about Kylie Jenner's reported pregnancy, so he kept checking his cellphone throughout the show to see if she sent back a response.
Eventually, Seacrest told the audience:
Kris says Kylie's not confirming anything. That's the news from the family this morning. Kylie is not confirming anything.
COME ON, THAT'S ALL WE GET?! I'm legit so done with this family. I mean, I love you guys (even you, Rob) but all this baby news is making my head hurt.
So, what have we learned today? Well, we've learned the Kardashians are ready AF for motherhood, that's for sure. I guess we'll have to wait for Khloe Kardashian, Kim Kardashian, and Kylie Jenner to finally respond so we can figure out WTF is really going on. For now, just watch the video below. I promise, Ryan Seacrest will make you feel better.
More to come...