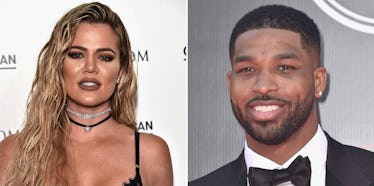 Khloe Kardashian Is Reportedly Pregnant With Tristan Thompson's Baby & We Can't Deal
Alberto E. Rodriguez/Getty Images
There's another pregnancy rumor running through the Kardashian clan. Us Weekly reported on Sept. 26 that sources claim Khloé Kardashian is reportedly pregnant. Sources are claiming the Keeping Up With The Kardashian star and boyfriend, Tristan Thompson, are expecting their first child together.
UPDATE: On Dec. 20, Khloe Kardashian confirmed that she is expecting a baby with Tristan Thompson in an Instagram post.
Earlier: Elite Daily reached out to Kardashian's teams for comment, but did not hear back at time of publication.
This is honestly just too much. TWO KARDASH-ENNERS (Kardashian-Jenners) EXPECTING AT THE SAME TIME. It's absolute madness. While few details have been spilled about the pregnancy, Kardashian and Thompson are an extremely close and loving couple so the news comes as no surprise to fans. The two have been dating just over a year, and met after being set up by a mutual friend.
"Brandon Jennings, who's a basketball player — he's a friend of mine and Malika's — he was like, 'you're such a good girl, I want to introduce you to someone,'" Kardashian explained on the 10th Anniversary Special. But Khloé wasn't super interested in doing a blind date, so instead Jennings "kind of ambushed the blind date," she said. He arranged a group dinner and had Thompson show up. It all worked out in the end.
"I had a bunch of people, so he brought him and we just connected," Kardashian said. The pair locked each other down in Sept. 2016. Since the pregnancy news dropped, fans have been wondering if Thompson and Kardashian are engaged. It's looking like the 33-year-old reality star and 26-year-old Cleveland Cavaliers player are not planning on tying the knot as of now, but we'll keep an eye on "that" finger.
Actually, marriage is seemingly not on the list of KoKo's short term priorities. She said recently in an interview with You Magazine,
I'm in the best relationship I've ever been in and it doesn't take a ring for me to feel that way.
Tell 'em. I think Thompson is getting the hang of the whole Kardashian lifestyle. In wake of the news, he tweeted a cryptic message. WHY DO FAMOUS PEOPLE DO THAT?
Rather than responding directly to reports, Thompson posted two sets of eyeball emojis.
Like, can we get a little more? Eyeball emojis could mean Thompson is watching the fake news go by or he could be confirming. Who knows. Again, why?!
We all know Khloé is a total prize, she's basically the best Kardashian, but Tristan is no slouch. He has proven to be an amazing boyfriend. Thompson hosted an epic surprise birthday party for Kardashian's 33rd birthday back in June.
The entire fam was at the event and Khloé appeared to have a fabulous time. She tweeted,
I've never had a surprise party in my life! I was blown away! Im so lucky and blessed! Thank you so much baby!!! You treat me like a queen!
Being Khloé, she followed it up with a relatable AF tweet.
Ok now I need a hangover remedy lol
Thompson may be Kardashian's arm candy, but professionally he's a star. The basketball player is pulling in a respectable $16.4 million for the 2017-2018 basketball season, according to HoopsHype. It's part of a five-year deal Thompson signed back in 2015 for $82 million total. His pay is actually expected to rise over the remaining few years of the deal — he's projected to make around $17.4 million next season. I don't know much about basketball, but OKURRR. Combined with Kardashian's net worth of around $40 million — these two are sitting pretty.
Although Kardashian nor Thompson have confirmed the pregnancy rumors, I love this couple regardless. No matter what the future holds, I'm wishing Khloé and Tristan the best.
Check out the entire Gen Why series and other videos on Facebook and the Bustle app across Apple TV, Roku, and Amazon Fire TV.