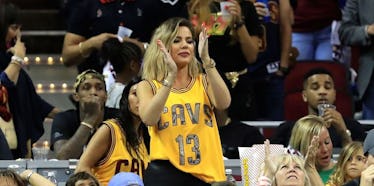 Khloe Kardashian & Tristan Thompson Have Been Dating Longer Than We Thought
Ronald Martinez/Getty Images
As rumors started spreading on Tuesday, Sept. 26 that Khloé Kardashian might be pregnant with Tristan Thompson's child, lots of people are looking back on their relationship. To examine a relationship, we must, of course, look back to the start of it. If you're wondering how long Khloé Kardashian and Tristan Thompson have been dating, it's been just about a year, as of this September. The relationship has been decently well documented, thanks to social media and, well, a certain reality television program.
UPDATE: On Dec. 20, Khloe Kardashian confirmed that she is expecting a baby with Tristan Thompson in an Instagram post.
EARLIER: Kardashian and Thompson just spoke about the start of their relationship for the Keeping Up With The Kardashians 10th Anniversary Special, which aired on Sunday, Sept. 24. As we learned during the special, they met due to a blind date, which is a super cute origin story, to be honest. Show host Ryan Seacrest joked about Kardashian's penchant for dating basketball players, like Thompson, who plays for the Cleveland Cavaliers. And it was Khloé's love for basketball that helped them get together in the end.
"Brandon Jennings, who's a basketball player — he's a friend of mine and Malika's — he was like, 'you're such a good girl, I want to introduce you to someone,'" Kardashian explained on the 10th Anniversary Special. But Khloé wasn't super interested in doing a blind date, so instead Jennings "kind of ambushed the blind date," she said. He arranged a group dinner and had Thompson show up. It all worked out in the end.
"I had a bunch of people, so he brought him and we just connected," Kardashian said. The pair has been together for a year as they got together in September 2016.
On Tuesday, Us Weekly reported that sources confirmed to them Khloé is pregnant with Tristan's child. Elite Daily reached out to the Kardashian's team for comment but did not hear back at time of publication.
Before they made it to the one-year mark, Khloé and Tristan were throwing around the idea of having children, as evidenced by some episodes from this past season of Keeping Up With The Kardashians. In the season finale, which aired in June, Khloé visited a fertility doctor along with sister Kim, who wanted to speak with the doctor about surrogacy.
Khloé ended up getting an ultrasound, and the doctor told her it may be difficult for her to get pregnant because she had fewer follicles than someone her age should have. He suggested freezing her eggs and told her that she needed to stop taking birth control pills.
"Do I wanna have my own baby now? I don't know. I'm at a crossroads," she told the cameras. But, she added that Thompson was happy about the news that she could get pregnant. She said they "definitely talk about starting a family."
"He wants to have about five or six kids with me and that's lovely. We could start at one and we could grow from there. But now knowing I'm not on birth control is scary. It's like a really big step," Khloé said. If the rumors are true, they could be starting on that family now.
Thompson has been on the Cavaliers since 2011, and he helped them win the NBA finals (overcoming a 3-1 lead from the Golden State Warriors) in 2016. As the news started coming out that Kardashian might be pregnant with his baby, Thompson sent a super cryptic tweet, neither confirming nor denying the reports.
This news dropped in a busy time for Kardashian rumors. Just this past Friday, reports came out that Kylie Jenner is pregnant with Travis Scott's baby. If they are both pregnant, this would be the first child for both. Meanwhile, Kim Kardashian is reportedly having another child with Kanye West via a surrogate. So that's potentially a whole new crew of babies (and, hopefully, reality television specials about all of them) for the Kardashians. At this point, it's really becoming hard to keep up with them.