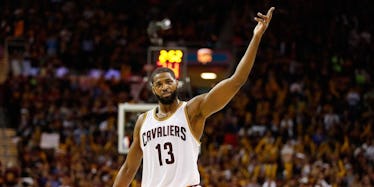 Tristan Thompson's Net Worth Is A Lot Higher Than You May Think
Gregory Shamus/Getty Images
There's not one, not two, but three rumored Kardashian pregnancies in the works. Khloé Kardashian is rumored to be pregnant with boyfriend Tristan Thompson's baby, and the world is blessing us with an abundance of Kardashi-babies. But even if the rumored baby bounty is real, the couple isn't going to be making do with family hand-me-downs. Khloé isn't exactly hurting for funds, and as for her boyfriend, Tristan Thompson's net worth is higher than you might expect.
UPDATE: On Dec. 20, Khloe Kardashian confirmed that she is expecting a baby with Tristan Thompson in an Instagram post.
EARLIER: The Cleveland Cavaliers center / power forward is pulling in a respectable $16.4 million for the 2017-2018 basketball season, according to HoopsHype. It's part of a five-year deal Thompson signed back in 2015 for a cool $82 million total. Even better for him? His pay is expected to rise over the remaining few years of the deal, as he's projected to make around $17.4 million in the 2018-2019 season, and $18.5 million for the 2019-2020 season. The generous moolah makes him the third best-paid player on the Cavaliers, and the 66th best-paid player in the NBA as a whole. If you measure things by his position, it's even better — he's the 24th best-paid forward in the NBA.
So, not too shabby.
Of course, it doesn't quite compare to his girlfriend and maybe-baby mama to be, Khloé K. The youngest of the Kardashian sisters (though not the Kardashian-Jenner clan), Khloé is worth around $40 million all on her own, thanks to both Keeping Up With The Kardashians and her own shows, Kocktails with Khloé and Revenge Body With Khloé Kardashian, according to Time. Hey, this is the 21st century, there's nothing wrong with mom being the breadwinner.
The couple have been dating for just about a year, after they met on a blind date back in September of last year. A mutual friend, Brandon Jennings, set the pair up at a "group dinner" which was actually just an excuse to set the couple up.
Which honestly, might be the most adorable meet-cute I've ever heard. I didn't know that couples actually got together for real on blind dates? Heck, I didn't know that people actually went on second dates after a blind date. But looks like it's been working out for these two crazy kids. And now there's (supposedly) a baby on the way. This would be the first baby for Khloé, but the second for Tristan Thompson, who has a nine-month old son with his ex, Jordan Craig.
Khloé's cryptic Snapchat from a few months ago gave hints about the rumored pregnancy — and how happy the couple is, which baby or not is amazing. Khloé posted a pic of a few polaroids of the couple, labeled with the date June 25 and "dad + mom" as the pair fed each other food and kissed. It's pretty adorable.
Even better? With the rumors of Khloé's pregnancy, there are a possible three tots on the way for the Kardashian-Jenner clan.
It seems like only yesterday I was getting excited about the possibility of the first set of official Kardashian sisters to hit the next generation, with rumors that Kim K and hubby Kanye West were having their third child, a daughter, via a surrogate (OK, so they'd be West sisters, I'm fine with that). And then littlest sister Kylie Jenner broke the internet when rumors emerged on Sept. 22 that she was pregnant with boyfriend Travis Scott (and it was also a girl)! And now, I guess good things come in threes.
I swear to you, if these three pregnancies are all real, and they're all girls, I will absolutely lose it. (Also, never ask me to do anything on Sunday night for the rest of my natural born life, because you know I will be watching Season 35 of Keeping Up With The Kardashians or whatever the next generation reboots it as. Keeping Up With The WestJennerKardashians?)
America is ready to give the next generation its spotlight. So, uh, next generation? We're waiting.