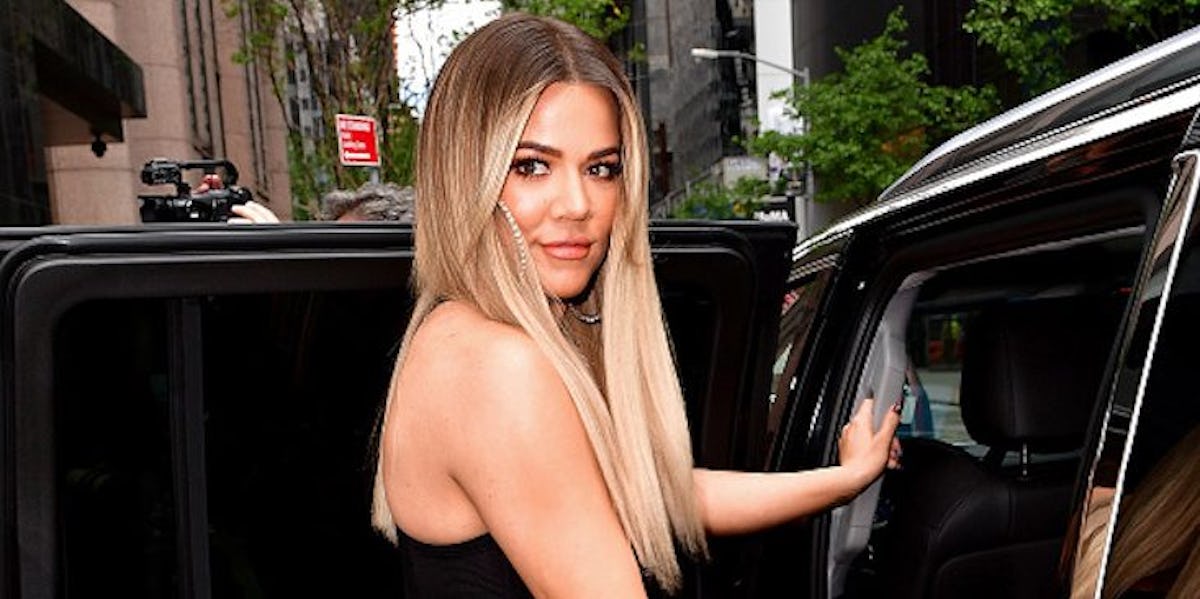 This Tweet From Khloé Kardashian May Have Been A Hint About Her Reported Pregnancy
Getty Images/James Devaney
Fasten your seat belts, everyone. Not only is Kim Kardashian reportedly pregnant via surrogate, and not only is Kylie Jenner reportedly pregnant, according to Us Weekly, Khloé Kardashian is expecting her first child with Cleveland Cavaliers boyfriend Tristan Thompson. Elite Daily reached out to Kardashian's team for confirmation but did not hear back by the time of publication. Yup, that makes three Kardashian/Jenner babies at once. I think it's safe to say that nobody saw this coming, but these hints about Khloé Kardashian's reported pregnancy may have been under our nose the entire time.
UPDATE: On Dec. 20, Khloe Kardashian confirmed that she is expecting a baby with Tristan Thompson in an Instagram post.
EARLIER: Back in June, a few days before her 33rd birthday, Kardashian posted a series of polaroid pictures on her Snapchat with Thompson. Thompson is wearing some loud clothing -- it looks like it might be a leopard jacket or shirt? And Khloé just looks glowing as usual. The captions on the polaroids read "6/25/17" and "Dad + Mom." The photos show Kardashian feeding Thompson some sort of food and then kissing him. CUTE.
Fans obviously saw this and immediately screenshotted to post it to Twitter. Could it mean something? We know from Keeping Up With The Kardashians that Khloe has been vocal about her fertility issues.
At the time, many fans speculated that she may be pregnant, but nothing was ever confirmed and no reports had come out confirming any news from her team. This was almost exactly three months ago. As many women know, expected parents usually wait about three months before announcing a pregnancy. Hmmmm. Just sayin'! One fan @Chloe_risdale tweeted, "Is khloe pregnant ?????? I don't get this pic if she ain't lmao" and @laurenpattis0n said, "Is khloe pregnant???? I need answers am I just getting over excited over nothing."
As many Keeping Up With The Kardashians fans know, Khloé has been vocal about her fertility issues. She's seen doctors and even taped these appointments for the Keeping Up With The Kardashians cameras. In one episode, Khloé's doctor tells her, "What we're looking at is [if] there's nothing that's going to get in the way of a healthy pregnancy," pointing out, "These are follicles, these hold eggs, so this is just giving you an idea of how young your ovaries are." Khloé asks if they're young or old ovaries, and she doesn't get the answer she was looking for.
Despite these issues, Khloé has always been eager to become a mom one day, and she's a great aunt to so many little nieces and nephews including Mason, Penelope, and Reign Disick, North and Saint West, and Dream Kardashian. Back in 2014 right after her split from Lamar Odom, Khloé told Cosmopolitan,
I love kids. I hope and pray I have kids when the time is right ... If you think too far in the future, you might get disappointed. It sucks at times, but everything happens for a reason, no matter how sh---y your circumstances are.
She also spoke to Refinery29 in 2015 about being an aunt and her hopes for becoming a mom. She said,
Everyone says that when you have kids, you become crazy [laughs], so I don't know what I'm going to be. But, I'm a really fun aunt, so I hope I'm going to be a fun mom! I like to have fun and be silly and not take myself too seriously with the kids, so I hope that will translate when I actually have my own.
I want Khloé to be my aunt. Honestly, what's better than having Khloé Kardashian as your aunt? Well, I guess having her as your mom. If this news is true, we're already envying that little baby and it's not even in the world yet.