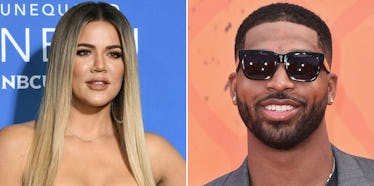 Tristan Thompson Threw Khloé Kardashian An Epic Surprise Birthday Party
Dia Dipasupil/Alberto E. Rodriguez/Getty Images
Happy (almost) birthday to Khloé Kardashian! The denim designer turns 33 years old on Tuesday, but the birthday festivities started a little early.
As we all know, the Kardashians love a good birthday party. This weekend was full of celebration. I was just recovering from the cuteness that was North West and Penelope Disick's joint Moana-themed birthday party when I was hit with KoKo's glammed-up surprise party. Whew! I had a full weekend, I need a nap.
Tristan Thompson seems to fit right in with the fam. Thompson threw Kardashian a lavish surprise party with all of her close family and friends on Sunday night. Talk about couple goals!
Nicely done, Tristan. Khloé Kardashian looked really surprised! The fully glitzed-out party took place at the Blind Dragon nightclub in Los Angeles, according to ET Online. KoKo was definitely feeling the birthday love.
Since my invitation got lost in the mail (I'm assuming), I followed along on social media. Kim Kardashian and Kylie Jenner kept me fully in the loop on Snapchat, and the party looked truly epic. Absolutely everything was dripping in gold, even the cake pops.
All the Kardashians are very health-conscious, especially Khloé, but I have a feeling Sunday was a day to indulge. You can't pass up a table of gold desserts.
Khloé Kardashian arrived looking gorgeous in a sequined mini-dress.
Can we just talk about how incredible she looked? Her body is freaking insane! I mean, we all have our birthday glow up once a year, but this just doesn't seem fair.
As always, no Kardashian bash would be complete without a photo booth; the pictures looked amazing. Somehow, even the silly pictures turned out charming. Not as easy as it looks!
All in all, it seems like Khloé had an amazing night. She got to ring in 33 with an absolutely unforgettable party. Glad to see Tristan is still being a picture perfect boyfriend. We're, like, 90 percent happy and 10 percent jealous. I'm kidding (not really). She's got the body, the boyfriend, and she's still relatable AF.
Greasy food? Ginger shot? Coconut water? Khloé, girl, I got you. Wishing you a fabulous year!