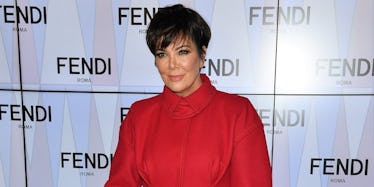 Kris Jenner Texted Ryan Seacrest On Live TV About Kylie Jenner's Reported Pregnancy
Venturelli/ Getty Images
Oh, no she didn't! For the last several days, Kylie Jenner has had more news stories circulating around her than Donald Trump, and that's saying a lot. Now, Kris Jenner is in the news, and we are totally here for it. The mom of six is notorious for putting her foot in her mouth on television, but this time she kept her sh*t together. Kris Jenner's text about Kylie Jenner's pregnancy on Live With Kelly and Ryan is everything, although she didn't tell us much at all.
If you had no clue about Kylie Jenner's pregnancy, you need to come out from under the rock, dude. There are loads of rumors Kylie Jenner is pregnant with Travis Scott's baby, and everyone around the globe is completely panicking. We did not see this one coming. Elite Daily reached out to Jenner and Scott's teams for confirmation, but did not hear back by the time of publication. Now, the entire Kardashian family is being questioned, and some even believe Jenner is going to be Kim K's surrogate mother. I know! It's a lot to take in. So, what exactly did Kris Jenner say on Live with Kelly and Ryan, and is there anything we can take away from it? Let's review:
Ryan Seacrest and Kelly Ripa opened Live With Kelly and Ryan on Monday, Sept. 25, 2017 with the Kylie news. They also started talking while holding a cell phone, which is rare considering we barely see talk show hosts with their cell phones out on camera. But, Seacrest quickly explained they were waiting for a text back from Kris Jenner. They talked about the "bubbles" showing Jenner typing. Seacrest said,
The reason we're looking at the bubbles is because there was news over the weekend that Kylie Jenner is pregnant.
It's shocking Seacrest had no idea about the Jenner pregnancy news, considering he is an executive producer of E!'s Keeping Up With the Kardashians and all of its many spinoffs. Seacrest should've been the first to know! I guess he really was swamped.
As Seacrest and Ripa walked onto the Live with Kelly and Ryan stage, they noticed text bubbles from Kris Jenner. Ripa said,
As we were walking out on the air! Bubbles! We're still waiting. Bubbles! Bubbles!
Moments later, Jenner finally replied to Seacrest's text. He commented on them saying,
Kris says Kylie's not confirming anything. That's the news from the family this morning. Kylie is not confirming anything.
What? Why? All that build up for this? Ugh. This is absolutely not OK, Kris Jenner. Not OK.
So, what all do we know about Kylie Jenner's pregnancy thus far? Not much. Jenner and boyfriend, Travis Scott have not commented on the matter, and everyone in the Kardashian-Jenner family is remaining silent. It's all quiet on the Kardashian-Jenner front, and it's stressing me the f**k out!
The internet completely broke down on Sept. 22, 2017, when the Jenner pregnancy rumors started spreading all over the internet. It's the biggest news since Taylor Swift's music video "Look What You Made Me Do," and we are seriously all over it. Who doesn't love celebrity gossip? Also, I love babies. If Kylie doesn't have one, I hope someone from the Kardashian-Jenner family has one soon. It's my hormones talking. What can I say?
So, will Kris Jenner be the one to confirm the official pregnancy rumors? Will Kim K leak the info on her Twitter page? Maybe rapper Travis Scott will release a new song about his future (possible) child. Whatever happens will happen, but I really hope someone gets married or has a baby. What will it be Kylie?