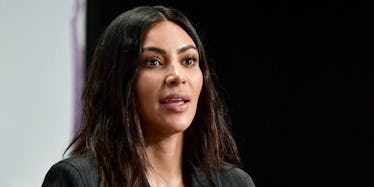 Kim K Says North West Would Be A Better President Than Donald Trump And TBH, Yes
Getty Images/ Dia Dipasupil
When Kim Kardashian speaks, it frequently gets taken out of context. That's why she wanted to be loud and clear about her feelings on Donald Trump: She does not feel safe with him in office. Also, her four-year-old daughter, North, could be handling the job better. Her strong words have taken people by surprise because Kardashian usually remains quiet about politics. However, we have definitely learned that when Kardashian elaborates on the subject, she means business. Kim Kardashian on Donald Trump basically sums up a lot of people's thoughts on the matter.
During an interview with Elle, Kardashian said,
Anyone can run the U.S. better. My daughter would be better. We've worked so hard to get to where we were and to have so many things that we were so proud of in our country, to just literally revert backwards is the most frustrating thing. Every single day when you can't really believe what's going on, the next day it's something else even more crazy and tragic. It's really scary, the world that we're living in now. And when you did feel safe at home, now with Trump in presidency you just don't feel safe anymore.
Kardashian doesn't feel safe. Oh, because of that whole North Korea missile thing? The questionable Russian emails? Or the idea of having a world leader who can't control themselves on social media? Yes, that's all real and actually very scary. Basically, if you just Google anything these days, something terrifying will pop up.
Kardashian has kept pretty quiet about politics during the past year. This counters the actions of her husband, Kanye West. In Nov. 2016, right before West canceled his tour and was hospitalized for exhaustion, he interrupted a concert in San Jose to tell the crowd,
I told y'all I didn't vote, but what I didn't tell you… If I were to have voted, I would have voted for Trump.
This made everyone relatively confused. Then, in Dec. 2016 we were confused again when West met with Trump at Trump Tower. In a series of tweets, he explained the reasoning for the meeting by saying,
I wanted to meet with Trump today to discuss multicultural issues… These issues included bullying, supporting teachers, modernizing curriculums, and violence in Chicago… I feel it is important to have a direct line of communication with our future President if we truly want change.
Trump told reporters he and West had met to discuss "life" and that the two had been "friends for a long time." According to a report from E! News, the two men met to discuss West becoming an "ambassador of sorts" in an "entrepreneurial leadership role."
Remember 2016? This was when nothing made sense and we were all upset — It's kind of still happening.
While West and Kardashian don't see eye-to-eye on politics, I'm glad Kim K has found her voice and isn't afraid to share it. Will she continue to contribute her thoughts on POTUS? We'll just have to wait and see.