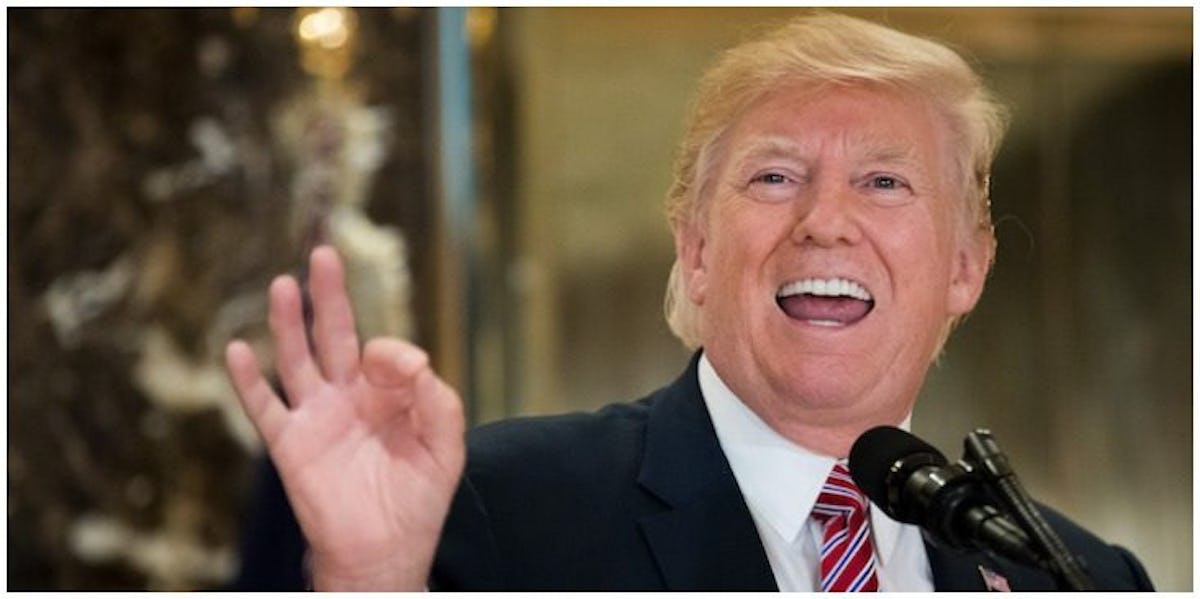 There's A Whole New Russia Email, And It Could Spell Trouble For Donald Trump
Drew Angerer/Getty Images
CNN has reported that a new Trump Russia email has allegedly emerged during Robert Mueller's investigation, and it's a doozy. Rick Dearborn, a top Trump campaign staffer and current Deputy Chief of Staff, reportedly tried to arrange a meeting between top Trump aides and Russian President Vladimir Putin. It was sent around the time of the June 2016 Trump Tower meeting between Donald Trump, Jr., Jared Kushner, Paul Manafort, and Russian agents.
Several sources told CNN that Dearborn sent "a brief email to campaign officials last year relaying information about an individual who was seeking to connect top Trump officials with Putin."
The individual, who was allegedly looking to connect Trump officials and Putin, was only identified as from "WV" which one source says means West Virginia. It's not clear if Dearborn, who was not only a campaign staffer but Attorney General Jeff Sessions' chief of staff at the time, responded to the request or if anything came of it.
Though Dearborn seemed "skeptical," it seems clear from this email that he was willing to entertain the idea of working with Russian officials and that Russian agents were looking for multiple ways into the Trump campaign.
This email does not implicate President Donald Trump directly. That said, this renews questions about whether or not the Trump campaign colluded with Russia to win the election.
The email highlights the fact that many high-level campaign staffers and Trump surrogates have dubious connections to Russian agents.
This email also renews questions about whether or not Dearborn assisted in arranging meetings between Sessions and then-Russian ambassador to the U.S. Sergey Kislyak. Though Sessions downplayed his meetings with Kislyak, and Trump Jr. downplayed his June 2016 meeting, Mueller's investigation is seemingly finding more and more connections between the Trump campaign and Russia. The timing of the emails also falls well within when Russia started their operation to interfere in the U.S. presidential election.
Trump came under fire only months ago when The Washington Post discovered that he had dictated his son's July 8 statement denying that the June 2016 meeting was campaign-related. That move had some Trump advisers worried that he could get into legal trouble, because the statement later turned out to be false. Trump Jr. released an email chain in which the organizer of the meeting offered up dirt on Hillary Clinton, and Trump Jr. responded "I love it." It also raised questions about whether Trump could be hiding anything, and why he would craft a false statement to the press.
Dearborn isn't the only campaign aide to have sent Russia-related emails either, reports say.
Campaign adviser George Papadopoulos allegedly sent an email to campaign officials in March 2016 about arranging meetings with Russians, according to The Washington Post. Papadopoulos continued to email campaign officials, including then-Campaign Manager Corey Lewandowski, about meeting with Russian officials.
Both the Dearborn and Papadopoulos emails were part of a batch of 20,000 emails Trump officials handed over as part of the ongoing congressional investigation into Russian interference in the U.S. election.
Things are not looking great for Trump: though he is not directly mentioned in the latest email, the spiderweb of connections between the Trump campaign and Russian officials looking to influence the election is ever-growing.
Knowing the president, we should all brace ourselves for an early-morning tweetstorm.