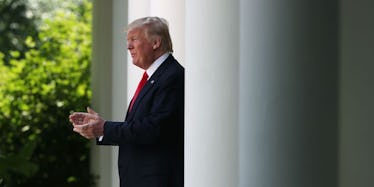 Trump Writing His Son's Russia Meeting Statement Could Get Him In Major Trouble
Mark Wilson/Getty Images
The on-going saga that is the Russia investigation just took a new twist. This time, President Donald Trump, and not one of his advisers, is in the thick of things. The Washington Post reported on July 31 that Trump himself dictated the original July 8 statement that Donald Trump Jr. released regarding allegations that he met with Russian lawyers in 2016 looking for dirt on Hillary Clinton.
The July 8 statement to The New York Times claimed that the meeting was "primarily" about adoption, and was in no way related to the Trump campaign. It also led to a second second statement with a different explanation of the meeting's content.
These contradictory statements were in response to reports that Trump Jr., son-in-law Jared Kushner and then-campaign chair Paul Manafort met with goverment-linked Russian lawyer Natalia Veselnitskaya and several others seeking dirt on Hillary Clinton shortly after Trump clinched the Republican presidential nomination in June 2016.
And WaPo's report alleges that Trump dictated the first statement on his way back from the G20 Summit.
Now, this move reportedly has some of the president's advisers fearful that he could land in legal jeopardy. The White House referred all questions on the matter to outside counsel, and representatives for Trump Jr. and President Trump did not immediately respond to Elite Daily's request for comment.
If the report is true, it means that the president was directly involved in spinning his eldest son's alleged willingness to collude with a foreign government in the presidential election -- and that he has misled the American public about his involvement in the scandal.
That said, misleading the press (and the public) is not a crime. But it could give Robert Mueller, the special prosecutor assigned to the Russia case, incentive to look closer at accusations of obstruction of justice, which is a crime.
Over a month ago, on June 15, CNN reported that Mueller is looking into whether or not to launch a full-scale investigation into the possibility of obstruction -- and this could be the detail Mueller is looking for.
But what exactly is obstruction of justice, and could it lead to Trump's impeachment?
Put simply: obstruction of justice is a federal crime in which someone impedes any official investigation. This can, according to The New York Times, refer to specific actions, like evidence tampering. But there are also broader definitions like if the accused "obstructs, influences or impedes any official proceeding."
And attempting to spin his son's email chain in order to mislead the public about the nature of the June 2016 meeting could possibly fall under that definition.
Obstruction of justice is a crime for which a president can be impeached, so theoretically, if this report is true, it could spell trouble for Trump.
That said, impeachment is a long, complicated process involving both chambers of Congress and is, in all honesty, a numbers game. So the real answer right now is that we just don't know what this report means.
Before WaPo published these allegations on July 31, Trump initially praised his son for his transparency and called Jr. a "high-quality person" in a statement read by now-Press Secretary Sarah Huckabee Sanders.
He also tweeted that the allegations against Trump Jr. were just part of the "greatest Witch Hunt in political history."
The president has yet to respond at all to any of the allegations, though by all accounts he's having a great day.