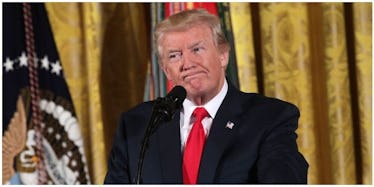 Trump's Tweet After Firing Anthony Scaramucci Is So Bizarrely Subtle It's Scary
Alex Wong/Getty Images
In light of the news that White House Communications Director Anthony Scaramucci was fired on July 31 after only 10 days of service, the world waited with bated breath for the fateful tweet from President Donald Trump. You know the one. The inevitable name-calling, colorful descriptors, some variation on "horrible loser." But instead, Trump tweeted about Obamacare and the stock market, retweeted Fox and Friends, and then gave us seven cryptic words.
"A great day at the White House!" it reads. Nothing more, nothing less.
There's no mention of Scaramucci, no mention of the media frenzy surrounding the immediate firing of the man who promised to clean up the White House and its leaks.
And you know what?
It's actually a... decent burn. Subtle. Surprisingly so.
It's like watching someone pretend to live their best life on Instagram after a messy break-up.
There's no hint of it on social media, but everyone knows every juicy detail of what happened.
To boot, it is a stark departure from Trump's usual behavior when it comes to people who insult, embarrass, annoy, or otherwise cross him.
The president's usual M.O. is to use name-calling and mud-slinging.
He's so famous for it that The New York Times maintains an ever-growing list of all the people, places, and things he has insulted -- just on Twitter.
He called Mika Brzezinski "crazy" and alleged that she was "bleeding badly from a face-lift" when he saw her at Mar-a-Lago on New Year's Eve.
He has gone after civil rights hero and current U.S Representative John Lewis in the past.
He has insulted the decision-making skills of senators he now calls on for support.
He said of Senator John McCain's war record, "I like people who weren't captured." He later retweeted a South Carolina-based news outlet reiterating his comment that McCain is a "loser."
And the list goes on and on.
But this? Kind of well-played. Perhaps the storm is still brewing, and we don't even know it. And in that case, I would be worried, because his tirades can get kind of unhinged. But he usually responds quite quickly, so it looks like The Mooch escaped the wrath of @realdonaldtrump.
So kudos, I guess, to the 71-year-old man running the country, for not angrily tweeting personal insults about someone who pissed him off.