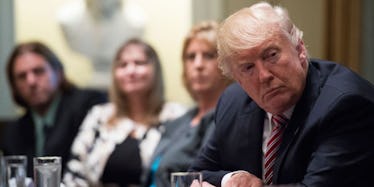 The DNC's Response To Trump's Mika Tweet Says So Much About Our Culture
Molly Riley-Pool/Getty Images
The Democratic National Committee (DNC) has publicly responded to the disturbing tweets President Donald Trump wrote about Morning Joe host Mika Brzezinski this morning.
DNC Deputy Communications Director Adrienne Watson said in a statement obtained by Elite Daily,
Trump's bullying tweets are an attack on women everywhere.  Trump has a long pattern of making demeaning, sexist and discriminatory comments about the women who take him on. The fact that they happen frequently doesn't make them okay. From his Twitter slurs to his policies, we have a president who continues to show us he has no regard for women and whose comments demean the office he holds.
The president has a habit of tweeting negative, often shocking things about his critics -- calling media outlets like CNN and Washington Post fake news, and even going so far as to make veiled threats to critics.
But it is his treatment of women that is particularly disturbing. In the past he has called Arianna Huffington "unattractive both inside and out," and even insulted MSNBC/NBC reporter Katy Tur during the election, tweeting that she should be fired and calling her "Little Katy" and a "third-rate reporter" -- after which she required a Secret Service escort and received threats from Trump supporters.
He also infamously said then-Fox correspondent Megyn Kelly must have had "blood coming out of her wherever" during a Republican primary debate when she asked him about his treatment of women.
One of Kelly's questions pertained to his frequent name-calling, referring to women as "fat pigs, dogs, slobs, and disgusting animals." His response? That the country is too politically correct.
While Republican senators have responded with outrage and Brzezinski herself seems to be taking it in stride, the DNC statement does not mince words about the president's latest reactionary tweets.
The president's comments on and policies pertaining to Muslims, immigrants and refugees, non-Christians, and women, and continued calls for a border wall between the United States and Mexico are not just disturbing -- they're reportedly emboldening white supremacists. Several outlets have reported a marked rise in reported hate crimes and racially motivated bullying since Trump took office.
So it's not a stretch to postulate that his comments on women have a similar effect on our culture.
Trump's attack on Brzezinski is not just a childish, vile insult -- it conflates a woman's worth with her looks, and it speaks to a larger cultural -- and political -- problem women in the United States are facing.
Trump has stated in the past that he will cut funding to the Department of Justice's Office on Violence Against Women, which "provides federal leadership in developing the national capacity to reduce violence against women and administer justice for and strengthen services to victims of domestic violence, dating violence, sexual assault, and stalking."
He views it as a waste of taxpayer funds. In fact, he has made it seemingly clear before that he believes that sexual assault is just a natural result of men and women working together in close quarters:
Additionally, he has stated in the past that he would ban abortion and that women who terminate pregnancies should face "some form of punishment."
This is not just talk, either: the Senate version of the healthcare bill would strip Planned Parenthood of all Medicaid funding for one year and reduce its budget by $22 billion over 10 years. Meanwhile, the cost of birth control would rise significantly under the bill.
The Trump administration's policies and Trump's tweets dovetail: they both speak to how this administration views women. And misogyny kills.
So while it's all well and good to sit back with the popcorn and watch senators like Lindsey Graham perform outrage and still vote within party lines, the fact of the matter is that the president's tweets do matter.
They mattered when the Ninth Circuit Court of Appeals was determining the discriminatory nature of the travel ban. And they matter when it comes to what women can expect -- and should brace themselves for -- in the months and years to come.