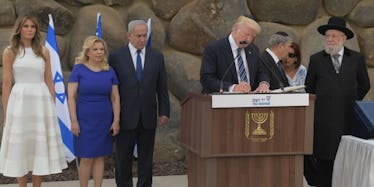 Difference Between Obama And Trump's Notes At Holocaust Memorial Says So Much
Getty Images
President Donald Trump is  currently in Israel on his first foreign trip since taking office.
On Tuesday, the president visited Yad Vashem, Israel's Holocaust memorial, where he participated in a wreath-laying ceremony at the Hall of Remembrance.
As other presidents and US leaders did in the past, including Barack Obama, George W. Bush and former Secretary of State Hillary Clinton, Trump left a note during his visit.
The note has come under fire for its short length, which some seem to feel signifies Trump's lack of substance.
Trump's note was under 140 characters, so maybe he can only think and write in tweets.
It said, "It is a great honor to be here with all of my friends — so amazing and will never forget!" and was signed by the president and the first lady.
When former President Obama visited, he left a decidedly longer, and arguably more heartfelt note.
Obama wrote,
I am grateful to Yad Vashem and all of those responsible for this remarkable institution.
At a time of great peril and promise, war and strife, we are blessed to have such a powerful reminder of man's potential for great evil, but also our capacity to rise up from tragedy and remake our world.
He added,
Let our children come here, and know this history, so that they can add their voices to proclaim 'never again.' And may we remember those who perished, not only as victims, but also as individuals who hoped and loved and dreamed like us, and who have become symbols of the human spirit.
Many feel the difference between Trump and Obama's notes says a lot about their character.
Some compared Trump's note to something you'd write someone's yearbook in high school.
In Trump's defense, when George W. Bush visited in January 2008, he wrote, "God bless Israel."
With that said, Bush has never been known as a man who's particularly good with words.
Moreover, according to the New York Times, while other presidents have had "lengthy, emotional visits to Yad Vashem," Trump only stayed for 30 minutes.
To his credit, Trump did offer a strong statement on the Holocaust as he visited, which was reportedly well received by Yad Vashem's chairman, but it was also very brief.
Trump's visit to Yad Vashem was always going to be somewhat awkward and under scrutiny, given the Trump administration doesn't have the best record when it comes to recognizing the Holocaust.
On Holocaust Remembrance Day, for example, the White House issued a statement that didn't mention Jews.
Meanwhile, Trump has come under criticism for not doing enough to decry anti-Semitism in the US.
White House Press Secretary will also probably never live down the time he essentially argued Syrian President Bashar al-Assad is worse than Adolf Hitler, in which he also referred to concentration camps as "Holocaust centers."
After this incident, Yad Vashem was deeply critical of Spicer and actually invited him to come there and learn about the Holocaust.
At the time, Dr. Robert Rozett, director of the Yad Vashem's libraries, said,
His statements imply a profound lack of knowledge of events of the Second World War, including the Holocaust. Moreover, they are liable to strengthen the hands of those whose goal is to distort history.
So, Trump and the rest of his administration could arguably really step it up when it comes to honoring the memory of those who perished in the Holocaust and ensuring future generations are properly educated on genocide.
Citations: Read the notes Trump, Obama, Clinton, and Bush left at the Holocaust memorial in Jerusalem (Business Insider)