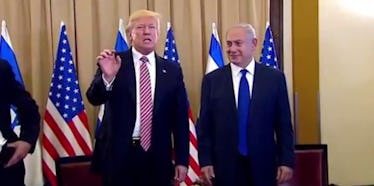 Trump Makes Painfully Awkward Statement In Israel About Russia Meeting
Twitter
During his visit to Israel on Monday, President Donald Trump made a painfully awkward reference to his controversial meeting with Russian Foreign Minister Sergey Lavrov and Russian Ambassador Sergey Kislyak, in which he allegedly shared highly classified information.
The intel Trump shared had reportedly been supplied by a close US ally, but it was initially unclear who this might be.
Eventually, the New York Times reported Israel was the source of the information. Neither the White House nor Israel has explicitly confirmed this.
On Monday, however, Trump went off script -- and might've inadvertently revealed the truth.
While meeting with Israeli Prime Minister Benjamin Netanyahu on Monday, Trump publicly addressed the Russia meeting in front of reporters.
Trump said, "I never mentioned the word or the name Israel. Never mentioned during that conversation."
But, the story on Trump revealing highly classified information to Russia, originally from the Washington Post, never alleged that he had revealed the source of the information.
Trump officials also never said he revealed the source to Russia. Last week, National Security Adviser HR McMaster said the president "wasn't even aware of where this information came from" because "he wasn't briefed on the source."
There was no real reason for Trump to make a statement on this.
Given neither the press nor his administration claimed Trump revealed the source, it was arguably extremely unnecessary for the president to go out of his way to make this statement.
Moreover, in doing so, some feel Trump just accidentally confirmed that Israel was indeed the source of the classified intel he shared with Russia.
Netanyahu seemed to be very uncomfortable during all of this.
But, as the two leaders walked away from the press, Netanyahu said, "intelligence cooperation is terrific" between the US and Israel, "and it's never been better," he added.
Netanyahu's public statements contradict other reports, however, which claimed Israeli intelligence officials let their American counterparts know how furious they were President Trump may have jeopardized a valuable source of information on ISIS and possibly Iran.
The highly classified information Trump revealed to Russia reportedly pertained to an ISIS plot to use laptops as bombs on airplanes.
It seems Israel is publicly downplaying its ties to Trump's meeting with Russia and the information he divulged, while privately panicking and expressing deep anger.
America and Israel have been close allies for decades, but intelligence experts feel Trump might have put this relationship into a tough spot when it comes to sharing vital intel, because he seemingly can't be trusted.
Israeli officials told BuzzFeed Trump sharing classified info with Russia was their "worst fears confirmed."
Long story short, all of this could have major consequences for US national security.
Citations: Israel Said to Be Source of Secret Intelligence Trump Gave to Russians (New York Times)