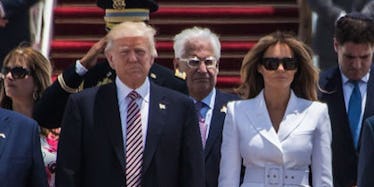 Melania Appears To Slap Trump's Hand Away And The Internet Cheers — VIDEO
Getty Images
Melania Trump seemed to knock Donald Trump's hand away from hers as they arrived in Israel on Monday.
The moment happened right after the couple landed in Tel Aviv. They were greeted by Israeli Prime Minister Benjamin Netanyahu and his wife, Sara.
As the two pairs walked through the tarmac, video footage showed Donald appearing to reach out for Melania's hand. Seemingly in response, she lightly knocked his hand away. He quickly removed his hand from her personal space.
You can judge what happens for yourself by watching the video:
And, because this was a highly public moment, there are multiple angles:
You shouldn't make assumptions about anything based on this video.
We don't know what's going on here. We don't know if Donald was reaching for her hand or if Melania knew he was doing that (maybe she thought there was a bug or something).
This video tells us nothing about how Melania is feeling right now or about the status of their relationship.
It's just a strange-seeming moment that was caught on a whole bunch of cameras.
But, of course, the internet started dissecting the moment between Melania and Donald.
Many people decided that it was Melania swatting Donald's hand away from her.
This assumption led to praise for the First Lady from people on Twitter who may not necessarily think of Donald as a super great guy.
Melania has been the source of some discussion during her husband's first foreign trip as president.
The Trumps landed in Israel from Saudi Arabia, where they started their trip. (Incidentally, the direct flight from Riyadh to Tel Aviv was historic.)
Melania and Ivanka Trump both accompanied Donald, and both women chose to not wear a headscarf in Saudi Arabia. This is not an entirely controversial move in and of itself. Western women are not expected to cover their hair in Saudi Arabia.
But it sparked conversation because Donald had criticized Michelle Obama for that very decision in 2015.
This was one of the many hypocritical moments of Trump's visit.
Citations: First lady Melania Trump slaps at President Trump's hand on Tel Aviv tarmac in Israel (AOL), Melania and Ivanka Trump arrive in Saudi Arabia sans headscarves (CNN), Melania Trump eschews headscarf in Saudi Arabia — and it's not an insult (USA Today)