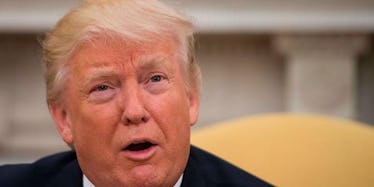 Trump Just Did Everything He Criticized Obama For In Saudi Arabia
Getty Images
For his first trip abroad as president, Donald Trump made his way to Saudi Arabia in an effort to strengthen international relationships.
Of course, his travels incited both praise and criticism back home... but mostly criticism.
Ironically, many believed the president seemingly changed his tune on a variety of issues once he landed in the Middle East. People were quick to compare Trump's latest  actions to that of former President Barack Obama.
For starters, Trump wasn't in favor of President Obama bowing to any Saudi leader back in 2012.
He took to Twitter (naturally) to share his viewpoint.
But five years later, we find Trump in the exact same scenario, doing what he once criticized Obama for — bowing.
It's a new situation entirely when you're forced to follow the former president's footsteps.
Trump (again) utilized his favorite social media platform to find fault with Michelle Obama not wearing a headscarf in Saudi Arabia, saying we have "enuf" enemies (making a strong case for that Twitter spellcheck tool).
Of course, no one wanted to miss the opportunity to point out that Melania Trump left for Saudi Arabia sans headscarf.
People were also quick to share the fact that Trump hesitated to use the term "radical Islamic terrorism," which he found fault with back in 2016.
Take a look at his tweet about Barack Obama.
Trump watched his words, referring to the issue as a "crisis of Islamic extremism."
According to The Huffington Post, the president said in his speech,
This is a battle between good and evil. That means honestly confronting the crisis of Islamic extremism and the Islamists and Islamic terror of all kinds. And it means standing together against the murder of innocent Muslims, the oppression of women, the persecution of Jews and the slaughter of Christians.
Can someone combat "Islamic terror of all kinds" while in favor of a ban limiting predominately Muslim countries from entering the US?
No matter how you refer to the issue and what words you choose, many will argue there is a difference between saying you're planning on "standing together against the murder of innocent Muslims" and doing so.
Ivanka Trump wasn't left out of the ordeal. Saudi Arabia and the U.A.E. will donate to the Women Entrepreneurs Fund, a program Ivanka pitched, the New York Daily News reported.
Last year, Trump took to Facebook (a change) to say.
Overall, it just seems that a lot has changed over the course of a few months now that Trump is actually in charge of the free world... and now that he actually is forced to go to Saudi Arabia himself.
Some will argue that what he has said is "politically correct," yet others will argue he won't be politically correct until his actions match his words.
What are your thoughts on the president's first trip abroad?