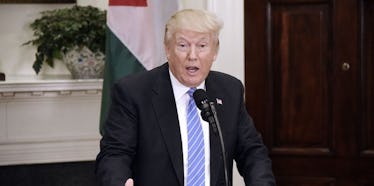 Trump Makes A Great Case For The Twitter Edit Button With Latest Spelling Error
Getty Images
President Donald Trump got to tweeting again on Thursday morning.
This time, the commander-in-chief said that the investigations into his presidential campaign are all one big witch hunt, following the Department of Justice's decision to appoint an independent counsel to look into possible ties between the Trump team and Russia.
No one cares about what he actually thinks about the "special councel," though. The real story here is that the president didn't correctly spell the word "counsel."
Predictably, Twitter pounced on the error.
Now, let's be clear. There's not much sympathy to be had for the president, either. Everybody knows the rules on Twitter. You do something funny, you get roasted, it's that simple.
Besides, we all do stuff like this. And let's be real, "counsel" is definitely in the Hall of Fame when it comes to words that are the easiest to screw up.
All POTUS' hilarious typo on Thursday shows is that Twitter needs to come around and add an edit button.
I'm dead serious, too, we've been waiting too long, especially after the company's chief executive, Jack Dorsey, admitted back in December that "a form of edit is def needed."
Since then, though, nothing has happened, even as Instagram does the right thing and allows us to revise our captions.
Just a shame.
Oh, and if you're wondering about the details behind that "special counsel" thing, here's the basics:
On Wednesday evening, news broke that the Department of Justice hired former FBI director Robert Mueller to conduct its investigation into possible coordination between the Trump campaign and Russians who sought to influence the 2016 election.
Mueller's hiring means that Trump's team will be investigated by a man who is independent from the Trump administration.
In other words, it was just another day in President Trump's Washington. Carry on (but definitely message Jack Dorsey to get that edit feature).