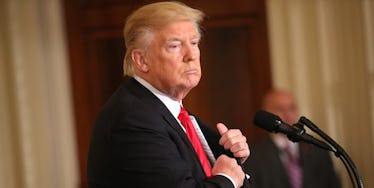 Trump Memo On Holocaust Remembrance Causes Rage After Leaving Out Crucial Word
REUTERS
President Donald Trump issued a White House statement on International Holocaust Remembrance Day.
The statement makes mention of "the victims, survivors, heroes of the Holocaust." Trump calls out the "horror inflicted on innocent people by Nazi terror."
But Trump's statement on the Holocaust apparently forgets that the Holocaust was an attack against Jewish people because the word "Jews" or "Jewish" or even "anti-Semitic" does not appear at all in the White House statement.
Trump says,
I pledge to do everything in my power throughout my Presidency, and my life, to ensure that the forces of evil never again defeat the powers of good.
Yet he can't even say the word "Jewish."
This is particularly alarming given Trump's links to anti-Semitism.
Neo-Nazis support Trump.
His election was linked to a rise in hate incidents, including those against Jewish people.
Trump's presidential campaign led to an increase of anti-Semitism on social media, and Jewish reporters are regularly targeted by Trump supporters.
Meanwhile, Trump used anti-Semitic rhetoric in his campaign. He hired Steve Bannon, who has been linked to anti-Semitism, and continues to use the term "America First," which has an anti-Semitic history.
So the missing term "Jew" in this Holocaust Remembrance statement from the White House is a little alarming, to say the least.
And in case you want the context for comparison, Barack Obama did not shy away from it in his statements and speeches.
In fact, for last year's International Holocaust Remembrance Day, Obama gave a speech at the Israeli Embassy in Washington.
During that speech, Obama said,
When any Jew anywhere is targeted just for being Jewish, we all have to respond as Roddie Edmonds did: 'We are all Jews.'
Obama added,
Here, tonight, we must confront the reality that around the world, anti-Semitism is on the rise. We cannot deny it.
Obama also referred to crimes committed against the Jewish community in America.
Trump needs to realize that he has a responsibility to protect his constituents -- all his constituents, regardless of race, religion and sexual orientation.
That starts with acknowledging they exist.
Citations: Racist Incidents Are Up Since Donald Trump's Election. These Are Just a Few of Them (Time), Anti-Semitic Posts On Twitter (New York Times), Journalist who profiled Melania Trump hit with barrage of antisemitic abuse (The Guardian), Echoes of an Isolationist, Fascist Movement in Trump's 'America First' Slogan (Texas Public Radio), Full Transcript of President Obama's Holocaust Memorial Address at Israeli Embassy in D.C. (Haaretz), Roddie Edmonds (Wikipedia)