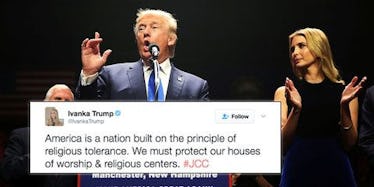 People Are Pissed Ivanka Trump's Doing Her Dad's Job With This Tweet
Twitter/REUTERS
Ivanka Trump — not the president — spoke out against a rise of anti-Semitism since the election of Donald Trump with a tweet condemning attacks on Jewish communities.
While many people are happy that she did this, they really wish the president would have done it first.
Ivanka was responding to a series of disturbing news reports about incidents made against the Jewish community in the United States.
Over the weekend, more than 150 headstones were damaged in a Jewish cemetery in Missouri. Police are investigating.
Meanwhile, Jewish community centers across the country are being targeted with bomb threats.
At least 56 Jewish community centers have had threats since the beginning of the year, according to the Huffington Post.
The Trump administration has not been particularly strong in condemning anti-Semitism.
In fact, the Trump administration has been accused of encouraging anti-Semitism instead.
Throughout the election, Donald Trump used anti-Semitic rhetoric. His election was marked by an increase in visible incidents of anti-Semitism, including online.
His statement today is a pathetic asterisk of condescension.
Trump has taken to using the phrase "America First," which has an anti-Semitic history. He hired Steve Bannon as his chief strategist, who has been linked to anti-Jewish sentiment.
Trump wrote a statement for International Holocaust Remembrance Day without using the word "Jews."
Just last week, he refused to answer a Jewish reporter with a question about efforts to stop anti-Semitism committed in Trump's name.
So while people were pleased to see Ivanka, who is Jewish, speak out against the attacks, they demand more from the president.
Hillary Clinton tweeted on Tuesday, February 21 that "everyone must speak out" against Jewish attacks. She tagged @POTUS directly, saying he needs to say something.
Representative Jerrold Nadler of New York said on CNN by not speaking out, Trump "refused the elementary duty of a president — to denounce the wave of bigotry and help stop it."
Trump briefly touched on the attacks on Tuesday at the National Museum of African American Museum and Culture.
The president said,
The anti-Semitic threats targeting our Jewish community and community centers are horrible and are painful and a very sad reminder of the work that still must be done to root out hate and prejudice and evil.
He added in an interview with MSNBC, "Anti-Semitism is horrible and it's going to stop and it has to stop," which is just so meaningful.
The Anne Frank Center for Mutual Respect was less than impressed with Trump's quick statements.
Steven Goldstein, executive director, said in a passionate statement,
The president's sudden acknowledgement is a Band-Aid on the cancer of anti-semitism that has infected his own administration. His statement today is a pathetic asterisk of condescension after weeks in which he and his staff have committed grotesque acts and omissions reflecting Antisemitism, yet day after day have refused to apologize and correct the record.
Goldstein added the Trump administration is putting out more anti-Semitism than any other president.
He said when Trump talks about anti-Semitic threats "without pleas and pressure," the center will acknowledge that he is at least trying.
But, now "is not that moment."
Citations: 150+ headstones damaged at Jewish cemetery in University City (KSDK), More Bomb Threats Close Jewish Community Centers Across The Nation (Huffington Post), Trump calls recent anti-Semitic incidents 'horrible' (CNN), Anti-Semitism is no longer an undertone of Trump's campaign. It's the melody. (The Washington Post)