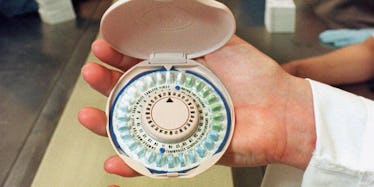 Your Birth Control Could Get Expensive Under Senate's New Trumpcare Bill
Shutterstock
Republicans in the Senate finally released their version of the American Health Care Act (AHCA, aka Trumpcare) on Thursday, and people are concerned about how Trumpcare affects birth control coverage.
The Senate legislation, called the Better Care Reconciliation Act, would repeal and replace the Affordable Care Act (ACA, aka Obamacare) should Republicans be able to get enough votes.
The House's version was passed back in May. The Senate's version varies a little from that one, especially where it concerns pre-existing conditions, but is overall quite similar. Trumpcare could make birth control expensive for American women by taking away protections.
"The bill released today threatens to send women back to a time when they had to choose between putting food on the table for their kids, paying for childcare, or paying for their birth control. Those are choices no family should have to make,"Andrea Flynn, a women's economic security policy expert and Fellow at The Roosevelt Institute, tells Elite Daily.
Given that contraceptives can cost hundreds of dollars, that's pretty significant in terms of making them more accessible.
Birth control pill coverage under Obamacare saved women, on average, $270 per year, according to 2013 research from the IMS Institute.
"This has allowed women to better plan the timing and size of their families and to choose a method of birth control that works best for their bodies and their lives, not just one that their bank account allows," Flynn says.
Now, this requirement has been challenged in courts, namely by religious organizations and employers, but contraceptives remained covered.
But many Republicans want to see that birth control requirement taken away.
States will have the option to waive that requirement, so they do not have to follow it.
Essential health benefits is a group of services that must be covered by insurance plans. Essential health benefits includes pregnancy and childbirth, mental health services, hospitalization, and, yes, birth control.
Meanwhile, the bill also defunds Planned Parenthood for a year.
So overall, it will be much more difficult for many people to take care of their reproductive and sexual health.
"This new bill will leave millions of women, especially low-income women and women of color, with few options," Flynn says.
The Trump White House has already been making moves against the coverage of birth control.
A rule was drafted that would make it easier for employers to not cover birth control in insurance. This comes on top of the health care plans, including defunding Planned Parenthood.
In a statement, Planned Parenthood President Cecile Richards said,
[The Better Care Reconciliation Act] would 'defund' Planned Parenthood; gut maternity coverage; strip millions of their health insurance; force new moms back to work shortly after giving birth; and reduce access to contraception.
Restricted contraceptive access has devastating effects on women.
"Texas lawmakers passed many of these same restrictions in recent years, and the result has been devastating," Flynn explains. "As a result, claims for long acting reversible methods of contraception (like the IUD) dropped by one-third, thousands of women have attempted self-induced abortion, the maternal mortality rate doubled, and the percentage of births covered by Medicaid has increased."