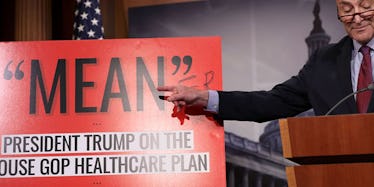 What The GOP Senate Health Care Bill Means For Pre-Existing Conditions
Chip Somodevilla/Getty Images
Among the subjects most discussed in anticipation of the GOP's healthcare bill -- alongside Medicaid expansion and funding for Planned Parenthood -- there has always been the topic of pre-existing conditions.
The big question was straightforward: Under a new Republican plan, would insurers be able to hike the costs of premiums for people who have serious illnesses?
After the Thursday unveiling of the GOP's bill, called Better Care Reconciliation Act of 2017, we have an answer: No.
The latest GOP healthcare bill does not include a provision that would allow insurance company's to charge higher premiums to sick people than healthy people.
The decision to not include such a provision is just one of the changes made by the select group of Republicans who re-wrote the American Health Care Act (AHCA) which passed through the House of Representatives last month.
The AHCA contained language that would have allowed states to opt out of the rules that mandates insurance companies not charge higher premiums.
The Better Care Reconciliation Act of 2017 departed from that move, much to the pleasure of Republican senator Lindsey Graham. Graham, who was not part of the group of senators who wrote the bill, said on Thursday,
The pre-existing problem, I feel comfortable with. No one's going to be denied coverage because they've been sick before.
The continued protection of people with pre-existing conditions is one of multiple reasons why conservative critics argue that the GOP's 142-page healthcare bill does not amount to an actual repeal of Obamacare.
The idea, from such critics, is that the Senate bill maintains many of the policies introduced by the Affordable Care Act.
Whether the bill doesn't go far enough in replacing Obamacare, and whether that is a point of contention for other Republicans, will be a subject to watch as vote on the bill nears.
With Democrats expected to vote uniformly against Better Care Reconciliation Act of 2017, Republicans can lose no more than two of their members.
If the GOP loses three, it's back to the drawing.