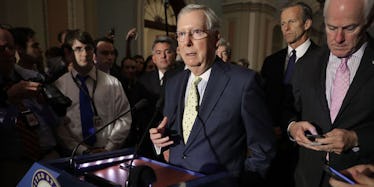 12 Tweets That Explain The Senate Republican Health Care Bill
Chip Somodevilla/Getty Images
On Thursday, Senate Republicans released their health care bill, which is 142 pages long and was controversially drafted in secret.
The bill, known as the American Health Care Act (aka AHCA or Trumpcare), is part of the GOP's long effort to repeal and replace the Affordable Care Act (Obamacare). The Senate bill is called the Better Care Reconciliation Act of 2017.
In May, the House passed a version of the AHCA that was seen as cruel to poor Americans, especially those with pre-existing conditions.
President Donald Trump even recently described the House bill as "mean."
Here are 12 tweets that help explain what's in the bill, and how it would impact health care in the United States.
The Senate version was supposed to be significantly different from what was passed in the House, but it seems only moderate changes were made.
The bill makes massive cuts to Medicaid, the federal health program for the poor.
During his presidential campaign, President Trump promised to not make cuts to Medicaid.
If the AHCA passes in the Senate and Trump signs it, he will be betraying that pledge.
This bill has the potential to negatively impact a wide array of Americans due to its approach to Medicaid.
The Senate version of the bill also includes huge tax cuts for the wealthy.
The bill ends Obamacare's mandate that most Americans have health insurance.
To summarize, the bill is beneficial to the healthy and wealthy, and harsh toward lower-income and sick individuals.
In general, AHCA is wildly unpopular.
A protest occurred outside of Senator Mitch McConnell's office after the draft of the bill was released.
It's hard to say whether or not the bill will pass, even though Republicans have a majority in the Senate.
We will see what happens when it comes to a vote next week.