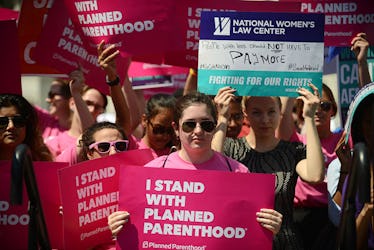 Senate AHCA Will Cut Planned Parenthood Funding, Which Will Have Major Effects
Astrid Riecken/Getty Images
Federal funding to Planned Parenthood will be cut for a year, pending the passing of a newly released healthcare bill by Republicans in the U.S. Senate.
On Thursday morning, Senate Majority Leader Mitch McConnell finally unveiled the bill, which calls for the family planning organization to be defunded for a year.
The bill had previously been under construction behind closed doors, under the guidance of a select group of Senate Republicans and aides.
The secrecy process led to criticism by both GOP members and Democrats.
Despite the official unveiling of the bill coming on Thursday, Planned Parenthood organized a preemptive demonstration on Wednesday night which resulted in over 60 "Pink Out" rallies in over 20 states.
In a statement responding to the bill's unveiling, the Planned Parenthood Federation of America labeled the legislation the "worst bill for women in a generation."
Cecile Richards, the organization's president, said,
If this is the Senate's idea of a bill with heart, then the women of America should have fear struck in theirs. Slashing Medicaid and blocking millions of women from getting preventive care at Planned Parenthood is beyond heartless.
With all 48 Democratic senators expected to form a bloc vote against the bill, Republicans can only afford two of their 52 Senate members voting "no," in which case Vice President Mike Pence would be expected to break the 50-50 tie in favor of the GOP.
With such a small margin for error, attention will now turn to Republicans senators who have been critical of the bill's writing process.
As for the provision that would defund Planned Parenthood, two GOP senators have voiced their support of the organization in the past. Meanwhile, a third Republican senator said during a town hall in April that he would "protect Planned Parenthood."
Should that support be reflected in a "no" vote, the bill could fail to pass or be forced into revision.
The Better Care Reconciliation Act of 2017, the official name of the Senate's version of the Affordable Health Care Act (AHCA) which passed through the House last month, is slated to be voted on next week.