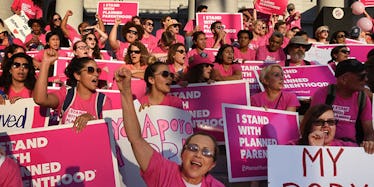 Powerful #PinkOut Pics Show Planned Parenthood Supporters Resisting Donald Trump
MARK RALSTON/AFP/Getty Images
Planned Parenthood supporters rallied around the country on Wednesday night, just as the threat of losing federal funding grew even larger.
Over 60 "Pink Out" rallies were held across more than 20 states, according to a statement from the organization. The purpose of the rallies was to protest the GOP's healthcare bill, which, for the past few weeks, has been written in relative secrecy amongst a select number of Republicans.
On the night before the rallies, Planned Parenthood president Cecile Richards told Huff Post,
We need a massive show of strength to demonstrate just how important Planned Parenthood is to the millions of patients who depend on our health centers for care. That's why taking action — and participating in our show of force on Pink Out Day today — is so crucial.
Scenes at the rallies were captured from all over the country.
The timing of the protests was significant, too.
Just as supporters lined streets across the country, a new report revealed a growing threat to Planned Parenthood resources. According to the Washington Post, a draft of the Senate's version of the American Health Care Act (AHCA) includes a provision to eliminate federal funding for Planned Parenthood.
The Post obtained the draft after it was circulated among lobbyists and Senate aides.
It's no surprise that a bill written by Republicans would include such a provision, of course. For years, leading Republicans have insisted that defunding Planned Parenthood would be a priority in any effort to repeal Obamacare.
It's an objective that aligns with the pro-life and anti-abortion stances that conservatives typically uphold.
Planned Parenthood has since fought back -- and not just with demonstrations. The organization donated nearly $800,000 to the campaign of Jon Ossoff, the Democratic contender for this past Tuesday's special election for the congressional seats from Georgia's sixth district.
The donation ultimately did not help Ossoff cross the line however, with the 30-year-old debutant losing to Karen Handel, a Republican candidate who is a proponent of defunding Planned Parenthood.
The victory of another conservative candidate, combined with the imminent release of a healthcare bill that promises to defund Planned Parenthood, highlights what's at stake for the organization this summer.
Clearly, given Wednesday's demonstration, Planned Parenthood has no plans to surrender its fight against the GOP's healthcare bill.