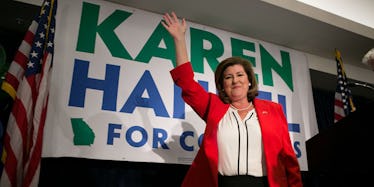 Women's Health Took A Major Hit In Georgia's Congressional Election
Jessica McGowan/Getty Images
Karen Handel made history on Tuesday night.
After winning this week's special House election in Georgia, the 55-year-old Republican will soon become the first GOP woman from her state to join Congress.
Handel acknowledged the milestone during her victory speech, at one point saying,
Tonight reminds us -- it reminds me -- that anything is possible.
However, despite the fact that Handel's victory is a landmark for women in the Republican party, there are groups who argue her victory is a danger for women's health.
Planned Parenthood is among those groups and proved it with its checkbook, donating $735,000 to the campaign of Democratic challenger Jon Ossoff.
The contribution was the second-highest generated by Ossoff, and served as a sign of just how committed Planned Parenthood was to defeating Handel.
The reason for that commitment is obvious, given an episode that occurred five years ago when Handel was the vice president for public policy at the Susan G. Komen for the Cure foundation.
Handel, who once served as Georgia's Secretary of State, notoriously supported a decision for the foundation to cut funding to Planned Parenthood.
Handel later resigned after the charity's board decided to reverse the funding decision, a fact that Ossoff sought to highlight during the campaign. He told Buzzfeed News,
Secretary Handel has a long track record of seeking to impose her own views, and she took a job at a charity whose purpose is fighting breast cancer, she abused her position to impose those views, defunded life-saving breast cancer screenings, resigned in disgrace, and cost the organization tens of millions of dollars or more in life-saving contributions.
Unsurprisingly, Handel's campaign pushed back against the attack, with her spokeswoman Kate Constantini saying in a statement,
It's not surprising Jon Ossoff is sticking to the Democratic playbook. He wants to equate Planned Parenthood to women's health, pretending that anyone who doesn't support them is anti-woman.
Planned Parenthood serves 2.4 million people in the United States every year, and it's estimated that one in five women in America has used Planned Parenthood at least once.
Regardless of Handel or Ossoff's perspective on the 2012 incident, one thing is clear. Democrats lost a chance to steal a congressional seat that has long been anti-abortion.
After the results came in on Tuesday night showing Handel's win, NARAL Pro-Choice America President Ilyse Hogue said in a statement,
Over the course of this campaign, Karen Handel proved time and again she cares more about her own extreme ideological agenda than the health and security of women and families.
As the prospect of defunding Planned Parenthood becomes more of a possibility for Republicans, welcoming yet another politician who is against Planned Parenthood could very easily have implications for women's health.