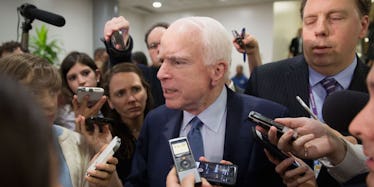 12 Senators' Comments About The Secret AHCA Bill That Should Freak You Out
Tasos Katopodis/Getty Images
In case you hadn't heard -- and we wouldn't blame you if you hadn't -- 13 Republican senators are currently working on a health care bill. In secret.
Led by Senate Majority Leader Mitch McConnell, the architects of the American Health Care Act (AHCA) -- also known as Trumpcare -- have refused to release text of the bill, though some reports state that they will release it on June 22 in the hopes of pushing through a vote by the time the session ends on July 4.
For context: the Affordable Care Act (ACA) -- aka Obamacare -- was subject to more than 50 Senate Finance Committee meetings, more than 47 Senate Health, Education, Labor and Pensions (HELP) Committee meetings, hundreds of markups and amendments, a six-day public mark-up period, and a 25-consecutive day legislative session (one of the longest consecutive sessions for a single bill in Senate history).
And while some have noted the irony of the GOP's refusal to release the bill to the public, others -- namely, senators -- have taken time this week to voice their genuine concern.
Some tweeted with tongue-in-cheek attitude, using humor to highlight the absurdity of the missing bill, while others took on a more serious tone. But no matter the medium, the message was the same: This is not okay.
Here are the best of the best.
Jeff Merkley, a Democrat representing Oregon, took part in the Senate talk-a-thon on June 19.
The talk-a-thon was part of a deliberate Senate slowdown to demand that GOP senators release the bill to the public.
Merkley has been tweeting up a storm about the bill:
Including this dubiously photoshopped nod to Schoolhouse Rock:
When Senator Elizabeth Warren took the floor during the talk-a-thon, she mentioned Massachusetts families who would suffer under Trumpcare.
She also took to Twitter today to talk about who the bill benefits:
Senator Tim Kaine also had something to say:
Senator Kamala Harris asked people to retweet if they had a right to see the bill -- and was up to 90,000 retweets by time of publication.
During the talk-a-thon, Sen. Harris said the bill would be "catastrophic," adding that it would "put Americans with pre-existing conditions at risk, and leave people who need maternity care or opioid treatment without coverage or force them to pay huge out-of-pocket costs."
And Senators Chris Murphy, Cory Booker, and Brian Schatz —Democrats from Connecticut, New Jersey, and Hawaii, respectively — went on a satirical hunt for the missing bill:
They livestreamed their adventure.
Sigh. Even New Jersey Democrat Bob Menendez got cheeky:
Republican Susan Collins, from Maine, reportedly does not believe a week is enough time to make an informed decision:
John McCain got salty:
Utah Republican Mike Lee was a little more, uh, reasoned in his response:
Lee says in the video,
I haven't seen it yet, either. Even though I've been a member of this working group among Senate Republicans assigned to help narrow some of the focus of this, I haven't seen the bill. And it has become increasingly apparent in the last few days that, even though we thought we were going to be in charge of the bill in this working group, it's not being written by us. It's apparently being written by a small handful of staffers for members of the Republican leadership of the Senate. So if you're frustrated by the lack of transparency in this process, I share your frustration. I share it wholeheartedly. The American people need and deserve to see legislation as it moves through the Senate.
Even Marco Rubio is wary of rushing a vote on a bill that has yet to see the light of day.
Though there's no way of knowing for sure until the bill is actually released, the Center on Budget and Policy Priorities reported that Senate Republicans are mulling over deeper cuts to Medicaid than the initial House bill proposed. (The House bill would cut Medicaid by $834 billion over 10 years.)
That the Senate bill is reportedly more austere than the version that would leave 23 million people without insurance inside of a decade is, to say the least, troubling. And in an increasingly partisan political environment, the fact that senators on both sides of the aisle are concerned about the lack of transparency says a lot about a bill we know very little about.