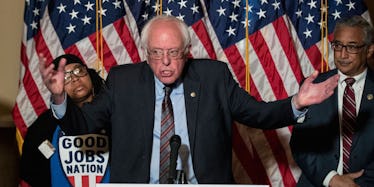 Republicans' Secret Healthcare Bill Is Being Protested By Democrats In Senate
Drew Angerer/Getty Images
Senate Democrats early on Monday sent a letter to Republican senators asking that GOP-led committees hold public hearings on the American Health Care Act (AHCA).
The Senate is working on the healthcare bill, but keeping it very secret -- which is making people nervous. The bill has not been made public, and Senate Republicans have no plans to release the bill before it goes to a vote.
Led by Majority Leader Mitch McConnell, architects of the AHCA are hoping to get enough votes to pass it before July 4 -- without public input.
The bill — which would repeal and replace large chunks of the Affordable Care Act (aka Obamacare) — passed by a razor-thin margin in an early May vote in the House. The bill needs a simple majority to pass in the Senate before it can go on to the president and potentially become law.
Senators Chuck Schumer, Ron Wyden, Patty Murray, and Bernie Sanders all signed off on the letter, which listed 31 rooms in which relevant committees could hold hearings.
The letter's tongue-in-cheek reminder that there are 31 rooms where hearings could be held is one of several instances of Democrats using humor to get under the GOP's skin.
But it also took on a more sober tone. The letter reads,
The [AHCA] would affect hundreds of millions of people across the country. The 74 million Americans on Medicaid could see their care eliminated or cut, including seniors in nursing homes [...] The [AHCA] would fundamentally redefine health care in our country. To draft it behind closed doors and pass it without even one hearing is nothing short of legislative malpractice and a repudiation of all the Senate stands for.
News of this letter comes along with news that Senate Democrats are also planning on disrupting Senate procedures -- such as vote scheduling -- until GOP senators working on the AHCA release the bill to the public.
While several senators, including Schumer and Wyden, have consistently been vocal about their concern over the secretive nature of those crafting the bill, Democrats as a whole have received widespread criticism for not focusing enough on the AHCA. This letter and the planned disruption are seen by some as a positive sign.
The secretive nature of senators working on the bill is, according to one Senate historian, unprecedented in recent times.
Even some GOP senators are disconcerted by the effort to keep the bill from public eyes:
The Senate slowdown is part of a concerted effort, led by Schumer and Wyden, to bring media attention -- which was credited for a failed House vote in March -- back to Trumpcare to prevent it from passing.