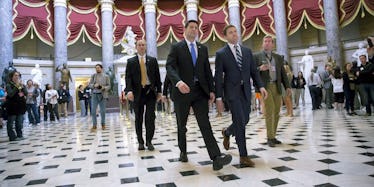 What Happens To The GOP Health Care Bill Now That The House Passed It
Getty Images
The American Health Care Act (AHCA), the GOP health care plan to repeal and replace Obamacare, narrowly passed in the House on Thursday, with 217 votes in favor and 213 against.
It now has to go to the Senate, where it will definitely encounter opposition from members of both parties.
The bill is wildly unpopular, which led Democrats to chant "na na na na hey hey goodbye" as it passed.
They were implying Republicans who voted for it will lose seats in the 2018 midterms.
The AHCA is a controversial bill that could ultimately leave 24 million people without health insurance by 2026, according to an analysis from the nonpartisan Congressional Budget Office.
Critics of the bill are also concerned about the impact it could have on people with preexisting conditions, as it would eliminate Obamacare protections.
The legislation requires insurers to cover people with preexisting conditions, but allows them to raise the premiums for these individuals.
In this sense, critics feel the plan is discriminatory against sick and old people.
AHCA includes an $8 billion amendment that is meant to help individuals with preexisting conditions afford the cost of insurance. Experts, however, say this isn't enough.
The bill has also generated outrage due to the The MacArthur-Meadows amendment, proposed by New Jersey State Representative Tom MacArthur, which permits states to refuse health care coverage for certain pre-existing conditions, including: postpartum depression, cesarean sections, surviving domestic violence and even rape.
There's also a loophole in the AHCA that allows members of Congress and their staffs to be exempt from losing popular Obamacare provisions.
Due the harshness of the bill, it has an uncertain future.
While the bill has passed in the House, it definitely faces challenges in the Senate.
Republicans have a majority in the Senate, but by a relatively slim margin (52-48).
As The Washington Post notes, if the bill loses just three votes in the Senate, it doesn't pass.
This would mean Obamacare remains the law of the land.
It's not quite clear what will happen to the bill in the Senate.
There's a big chance it could be modified, which puts its future into question.
The GOP won a victory in its fight to repeal and replace Obamacare today, but the war is far from over.
Obamacare is still in place. For now, at least.