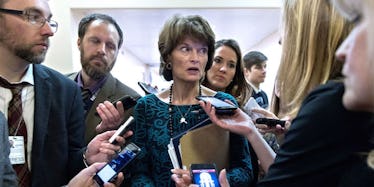 Two Female Republican Senators May Help Stop Trumpcare For Planned Parenthood
Chip Somodevilla/Getty Images
Republican Senators Lisa Murkowski and Susan Collins may present a major challenge to the Republicans' newly revealed proposed healthcare bill, and it has to do with Planned Parenthood.
Senate Majority Leader Mitch McConnell finally showed his version of the bill to the public on Thursday, June 22 after keeping it under wraps for weeks. That secrecy was protested.
One of the points of the bill, which the GOP senators call the "Better Care Reconciliation Act," that people were concerned about were its impact on Planned Parenthood.
The House American Health Care Act (AHCA) bill, which narrowly passed in May, said that Planned Parenthood would lose its federal funding for one year.
As it turns out, the Senate version of the healthcare bill also includes defunding Planned Parenthood.
That language could prove to be a major issue when it comes to getting votes from Murkowski and Collins, who represent Alaska and Maine, respectively.
The vote in the Senate is very tight. Following party lines, if the Republicans lose three or more votes, they could well see their bill tanked.
A handful of Republican senators have expressed discomfort with the bill, especially with the shroud of secrecy in which it was birthed.
But Collins and Murkowski have long been concerned about the bill's impact on Planned Parenthood -- and, in turn, how that would impact people in their states.
Murkowski has previously said she thinks that Planned Parenthood's funding should not "even be part of the discussion about healthcare," according to Politico.
Last week, Murkowski wrote to her Alaska constituents, according to Politico,
I am committed to ensuring that important provisions of the ACA, such as covering those with pre-existing conditions, continued support for Medicaid expansion, coverage for dependents and no lifetime limits, and funding for Planned Parenthood remain intact.
Back in early May, Collins said on ABC News,
I don't think low-income women should be denied their choice of health care providers, for family planning, cancer screenings, for well-women care. It's not fair and it is a mistake to defund Planned Parenthood.
Senators are concerned about the impact this bill could have on their constituents. The House bill would leave an estimated 23 million people without insurance by 2026, on top of other effects, according to the Congressional Budget Office.
Between these two senators and the few others who have criticism for the newest Trumpcare bill and its process, it may end up being a hard fight when it comes to the vote next week.
Oh, and did I mention, you can call your senator through the Capitol switchboard at 202-224-3121.