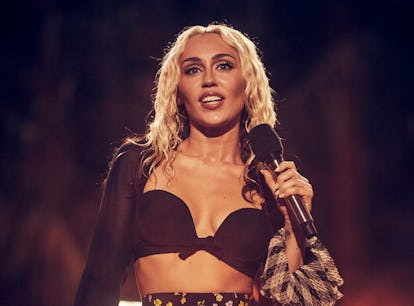 Miley Clarifies Those Comments About Never Touring Again
"It isn't what's best for me right NOW."
NBC/NBCUniversal/Getty Images
With Taylor's Eras and Beyoncé's Renaissance taking over the world, the concert tour season has never been bigger. But this year, Miley Cyrus is enjoying her Endless Summer Vacation away from the stage. In a May 18 profile with British Vogue, Cyrus said she doesn't have the desire to stage another large-scale tour for her latest album. While many of her fans understood her stance, some were disappointed and felt as though the singer was losing her connection to her fanbase. Now, Cyrus has offered more insight into her decision.
On May 24, the "River" singer disputed fans' concerns that she no longer loved to perform in an Instagram post. "For clarity, I feel connected to my fans NOW more than ever. When I win, we win. Even if I don't see them face to face every night at a concert, my fans are felt deeply in my heart," Cyrus began the note, reassuring her supporters that she's always "innovating new ways" to keep in touch with them.
Cyrus continued, noting the real reason why she's not interested in touring. "I simply don't want to get ready in a locker room, which is the reality of life on the road," she said, adding this era's fashion involves archival looks that wouldn't "travel well" between shows. "I just don't want to sleep on a moving bus. It isn't what's best for me right NOW, & if you've been following my career you know that I always change and the way I feel about that could too."
Cyrus got real about her current thoughts on touring during her May 18 British Vogue profile, revealing she doesn't have the desire to stage another large-scale tour at the moment. "It's been a minute," Cyrus said when asked about her touring hiatus. "After the last [headline arena] show I did [in 2014], I kind of looked at it as more of a question. And I can't. Not only 'can't,' because can't is your capability, but my desire. Do I want to live my life for anyone else's pleasure or fulfillment other than my own?"
While Cyrus still loves live performances, she admitted that playing for a massive arena crowd isn't her favorite thing. "I love performing but pretty much for [my friends]," Cyrus said. "Like singing for hundreds of thousands of people isn't really the thing that I love. There's no connection. There's no safety ... It's also not natural. It's so isolating because if you're in front of 100,000 people then you are alone."
This article was originally published on